So the taskmasters and the foremen of the people went out and said to the people, "Thus says Pharaoh, 'I will not give you straw. Go and get your straw yourselves wherever you can find it, but your work will not be reduced in the least.'" So the people were scattered throughout all the land of Egypt to gather stubble for straw. The taskmasters were urgent, saying, "Complete your work, your daily task each day, as when there was straw." And the foremen of the people of Israel, whom Pharaoh's taskmasters had set over them, were beaten and were asked, "Why have you not done all your task of making bricks today and yesterday, as in the past?" Then the foremen of the people of Israel came and cried to Pharaoh, "Why do you treat your servants like this? No straw is given to your servants, yet they say to us, 'Make bricks!' And behold, your servants are beaten; but the fault is in your own people." But he said, "You are idle, you are idle; that is why you say, 'Let us go and sacrifice to the LORD.' Go now and work. No straw will be given you, but you must still deliver the same number of bricks." The foremen of the people of Israel saw that they were in trouble when they said, "You shall by no means reduce your number of bricks, your daily task each day." They met Moses and Aaron, who were waiting for them, as they came out from Pharaoh; and they said to them, "The LORD look on you and judge, because you have made us stink in the sight of Pharaoh and his servants, and have put a sword in their hand to kill us." Then Moses turned to the LORD and said, "O LORD, why have you done evil to this people? Why did you ever send me? For since I came to Pharaoh to speak in your name, he has done evil to this people, and you have not delivered your people at all."
—Exodus 5:10-23 ESV
About 1,800 people from my area work at the Ford CVT Transmission Plant in Batavia, the largest town within twenty miles of me. Ford announced this week that the plant will be closed by 2008. The repercussions of this will be felt for miles—and for decades.
I don't know what to say to the folks that work there. I don't what to say to anyone who loses a job nowadays. I do know that economists will claim that all those lost jobs will be picked up elsewhere, but I can promise them this: the majority of those folks from Batavia will be making less money no matter what job they pick up. And I'll even argue with those economists about the truth of their statement.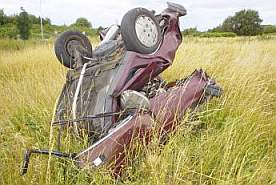 My own experience is that we're not making new jobs, at least in this part of America. Instead, we seem to be creating a new class of nomadic workers who must pick up and move to follow the jobs wherever they go. I know too many people who are caught in that existence. Of course, people will quibble with my observations, but then they're not from around here.
Earlier this week I talked about living in the country, but it's getting tough to live in rural areas. As much as we admire Mayberry and its quirky rural residents, in reality hundreds of towns like Mayberry up and blew away because the jobs left. The infrastructure decayed for want of work and those that did have work still had to leave because there was no support for what they stayed behind to do.
Increasingly, we're asking people to make bricks without straw.
I've blogged about the Church and employment more than any other topic, I'm sure. But even as I'm typing, the churches around my area are reeling from this plant closure, not only from the future lost revenue, but from a lack of preparedness for this kind of loss.
I simply don't understand why the Church has kept employment on the back burner. There's nothing we do each day that consumes more time than our jobs, but from the paucity of interest the Church seems to take in our employment, you'd think there was something sinful about working. Scratch that. We talk about sin all the time. It's the everyday parts of life we don't hear about on Sunday.
Listen, if we don't know it, I'll let out the secret. We're in a boom and bust cycle in our economy and the bust cycles are probably going to grow increasingly worse and last for longer amounts of time. No rational person can look at the meltdowns at Ford and GM and pretend that won't send shockwaves through our economy. Those companies are in deep trouble and whether we like it or not, we Christians can't sit idly by and pretend it's all sunshine and rainbows.
Pastors, what are you doing in your churches to help your people prepare for the bust years? Joseph had the Egyptians save up for the seven lean years. How are churches today doing the same? Solid organizations anticipate need. So why are churches always reacting rather than being proactive?
I could write about this subject more, but I'm weary. Last week I wrote that our churches need to get everyone in them down on their faces in prayer and fasting for as long as it takes. Must it take an economic meltdown to do it?
What do you all think? Why is the issue of our jobs and the economy so inconsequential to the leaders of our churches? During the last economic bust, the number one prayer concern at my old church was for jobs, but it took the church forever to realize they needed to be more active in meeting that need. Does it have to be that way?
The comments section is open. Please talk to me about this.
Tags: Ford, Batavia, Jobs, Employment, Work, Business, Church, Faith, Christianity, Jesus, God