I would have fainted unless I had believed to see the goodness of Jehovah in the land of the living.
—Psalms 27:13 LITV

Do not love the world or the things in the world. If anyone loves the world, the love of the Father is not in him. For all that is in the world—the desires of the flesh and the desires of the eyes and pride in possessions—is not from the Father but is from the world.
—1 John 2:15-16 ESV
When I was requesting input on issues within the Church for my "21 Steps to a 21st Century Church" series, no one issue was presented by readers more often than materialism.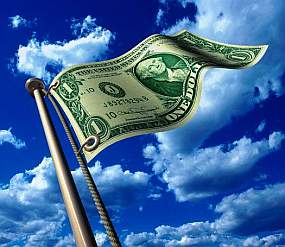 Others connected materialism with our penchant toward church hopping, consuming churches like we choose just another product on the shelves.
But is materialism in and of itself a problem, or is it just a symptom of other spiritual issues?
When George H. W. Bush (W's dad) was in office, he invited Boris Yeltsin, then president of Russia, to visit America. Nothing boggled Yeltsin more than the staggering number of choices that Americans have. Yeltsin broke down in the breakfast foods aisle of a grocery store when he saw the sheer variety of cereals. Captain Crunch and Count Chocula made the President of Russia cry.
When we talk about materialism, no fact is bandied about more than the notion that Americans are materialistic. In truth, we Americans—using the UN's Human Development Index (an excellent gauge of total privilege)—rank behind nine other countries not normally mentioned in the same breath with America as being overly privileged:
1. Norway
2. Iceland
3. Australia
4. Luxembourg
5. Canada
6. Sweden
7. Switzerland
8. Republic of Ireland
9. Belgium
10. United States
Ironically, the United States has moved down from 2004's list. Nor do we hear plenty of complaints against the Nordic countries for filling up the top ten list. Draw your own conclusions.
The problem with materialism is not so much the sin of it, but the fact that what we view as materialism is often nothing more than volume of choice. The one thing about each of the top ten nations on the list is that all are either democracies, parliamentary monarchies, or parliamentary socialist countries. Each allows their people to vote freely for elected officials. The fact that choices are given to the people means that the people soon become enamored of making choices.
What made Boris Yeltsin so weepy is the benefit of having choice. The UN's HDI listings of the bottom ten countries is a who's who of dictatorships or governments run by "strongmen." No governmental choice of leaders often translates to no choice between the Captain and the Count when breakfast time rolls around.
Marxists love to blame materialism on democracy—even some non-Marxists would contend they have point. It's hard to disengage choice from freedom. Freedom by its very nature entitles people to seek their own good within a set number of offerings. Few people would argue that this is a bad thing. The problem of materialism then becomes how many offerings are too many.
No moral code exists to say how many choices are too many, though. If we want to legislate against materialism, the universal answer would be to reduce the number of choices allowed. Unfortunately, this automatically limits freedom and will inevitably cause someone to have to forgo their usual selections. If the United States proclaimed tomorrow that no more cars made by Japanese companies would be allowed in this country, people would howl. Would they have a justifiable reason to? What moral code speaks for them or against them in this? None that I can find.
When people ultimately cite countries for being materialistic, more often than not the issue is nothing more than one of choice. Confusing materialism with choice is the mistake that people often make when attempting to show the immorality of any nation seen to be materialistic. This assessment fails to take into consideration that even the lowliest of the nations on the UN's HDI list contains materialistic people. Even with limited freedom, people in the HDI nether regions can be in love with the things of the world. Wealth is no indicator of covetousness.
When it comes to personal giving, Americans outstrip their counterparts in other countries by a wide margin. Non-governmental giving by Americans totaled more than $275 billion in 2004. This translates to almost $1000 per person per year. In stark contrast, studies have shown that the average European gives less than $20 a year of personal income to charitable causes. American taxpayers fund nearly all of the World Bank, too, though we never see any of that money doled out to us. And the thanks we Americans get for paying the majority of rescue operation costs after a series of devastating earthquakes in Iran in 2003 is the knowledge that mullahs in that country can't wait to explode one of their homemade nukes on our soil.
But does generosity offset supposed materialism?
This post is not an American apologetic piece. It's an attempt to see that there is more going on under the surface of materialism than the fact that some countries are more richly blessed than others.
Do we consider the United States blessed? David said that he would have despaired had he not seen the goodness of the Lord this side of heaven. While life is not always measured in what one owns, the Old Testament repeatedly offers a view of God's blessings that shows the Lord abundantly giving good things to the faithful. Many of the great people of God in the Old Testament were wealthy and God Himself made them that way. It's had to argue against God's favor. God's only warning is that those He so blessed not love the gifts more than the Giver.
The New Testament goes almost 180 degrees in the opposite direction by showing the household of God filled with the destitute. While wealthy patricians did populate the Church, so did prostitutes, widows, and orphans—the poorest of the poor. Jesus Himself was not wealthy, but He was buried in a rich man's tomb. Most of the apostles ultimately surrendered whatever earthly wealth they did have, forsaking it for the Gospel.
Making a theology of wealth or poverty from the Bible is more difficult than some imagine. Those that favor poverty and simplicity refer to the New Testament. Those that believe that God richly rewards the faithful materially love to quote from the Old Testament. Personally, I believe that the model is that we hold all that God gives us loosely. It's all His and it's always in play; He just needs to speak the word. We need to hear it when it's spoken.
The battle rages on.
I am not rich by any means—at least according to the standards of the United States. Our household income is pretty close to the median for this country. By the world's standards, though, I am most definitely rich, if per capita income is the only measure. Still, that's hard to judge in a vacuum. Outsourcing of American jobs shows the great equalization here. A worker in India with skills similar to mine can live on a third my income and have the Indian equivalent of my exact lifestyle. I may pay $4 for a whole chicken, while he pays only $0.40. If anything, he may be better off even though he makes only a third what I do because his cost of living is profoundly lower. Who then becomes the real materialist?
And what does that mean for our consumerist thinking about picking a church to attend?
We say that church shopping is bad and yet the number of Christian denominations in this country numbers in the thousands. America's melting pot gave us a stew of Christian sects brought here by each little immigrant group that settled this country. Their homeland may have had only a dozen flavors of Christianity, but multiply that by every country represented in America and you've got instant choice. Mix in the America ideal of being your own man and you have church splits ad infinitum. Just between the Methodist Church and the Presbyterian Church there are probably close to a hundred splinter groups that consider themselves Methodists or Presbyterians of some stripe. We say that we shouldn't treat the Church as a consumer activity, yet we are the ones that created all these factions and fractions of the original Church with a big "C." Now how many of you dozens of Presbyterian types are going to give up your little piece of the pie and join up with my independent Pentecostal church? No hands? Hmm.
Ultimately, we are only as materialistic as we love created things over the Creator. God apportions gifts as he sees fit, and if He wishes to take it all away from the United States, He can do so tomorrow. On the other hand, we should not despise God's graciousness to this country and its people. Sin is only found when we love the gift more than the Giver. When we lose that perspective, we are no longer receiving from God, but from the world, the very sin John warns us of. We become idolaters.
Are we idolaters? Some of us are. Each man needs to examine himself before God to see whether the charge sticks.
Tags: Materialism, Greed, Church, Faith, Christianity, Jesus, God