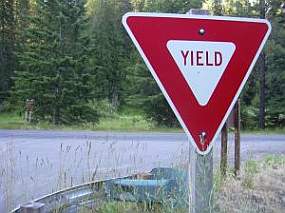 I was going to post this as a comment in my "Hearing God" post today, but I elected to break it out.
There's been some mixed discussion about whether God guides people by speaking to the believer through some means apart from the Scriptures. Some folks claim that doesn't happen. For those who claim that God doesn't work this way, I have to wonder how we pray for anyone.
Your church has a prayer team that prays for people after the meeting. A woman comes up to you and through tears requests prayer. She's very upset and can't really express what is going on. If your prayers for her are not specifically directed by God, how then do you pray or even know what to pray for?
There are myriad prayers in the Scriptures. Do you choose the Lord's Prayer? The prayer of Jabez? A table grace? Do you simply pray a Scripture promise such as the truth that God keeps in perfect peace those whose minds are stayed on Him? How do you know which is appropriate for this woman? If you do find an appropriate passage, wasn't it God who guided you to it? If you pray something that isn't exactly verse by verse from the Bible, aren't you then relying on some other form of extra-biblical guidance?
If we believe that without Him we can do nothing, then even our prayers are directed by God and therefore must reflect guidance from Him that is revelatory in nature.
Even more interesting is when you get someone who comes up and requests prayer for an issue, but it's clear the root of the person's problem is not what they request prayer for. Anyone ever experience this? Is it your own wisdom revealing this to you or is it God guiding you? If you don't get at the root—as God reveals it to you—have you truly prayed rightly for that person?
My own experience having been in charge of a prayer team at one of the churches I attended is that more often than not when someone comes up for prayer their needs are deeper than what they tell me. If that is true, how can God meet that need through prayer unless He gives specific guidance for that person's root problem? So I ask God to reveal that deeper need and I ask Him for guidance on how to pray. Then I say nothing until God gives me the prayer I need to pray.
When I talk to people who are intercessors, the one startling truth that comes out time and time again is that the people they pray for often ask, "How did you know to pray about that?" The simple answer is that God guided that prayer for their specific need.
If God does not guide our prayers by speaking to us, how then do we know what to pray, when to listen and be silent in prayer, and if there is a deeper root in an intercession that must be addressed even if the person did not share it?
Something to ponder.
Tags: Guidance, God's Will, Prayer, Intercession, Church, Faith, Christianity, Jesus, God