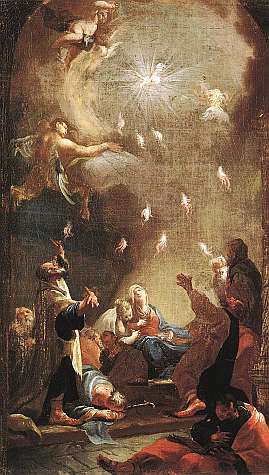 After 2005's year of chaotic Scripture study, I thought I'd go left-brained and run through the M'Cheyne Bible reading plan for 2006. While I didn't expect an immediate revelation from a more orderly approach to the Bible this year, the Holy Spirit still revealed an insight in January 2nd's reading of Acts 2 that caught me by surprise.
Ah, Acts 2. Pentecost. With my noggin still filled with visions of late 2005's tenuously friendly Godblogosphere discussion of the cessation or continuation of the charismatic gifts, I was nonetheless struck by Peter's quoting of Joel:
But Peter, standing with the eleven, lifted up his voice and addressed them, "Men of Judea and all who dwell in Jerusalem, let this be known to you, and give ear to my words. For these men are not drunk, as you suppose, since it is only the third hour of the day. But this is what was uttered through the prophet Joel:

'And in the last days it shall be, God declares, that I will pour out my Spirit on all flesh, and your sons and your daughters shall prophesy, and your young men shall see visions, and your old men shall dream dreams; even on my male servants and female servants in those days I will pour out my Spirit, and they shall prophesy. And I will show wonders in the heavens above and signs on the earth below, blood, and fire, and vapor of smoke; the sun shall be turned to darkness and the moon to blood, before the day of the Lord comes, the great and magnificent day. And it shall come to pass that everyone who calls upon the name of the Lord shall be saved.'"
—Acts 2:14-21 ESV
What Peter chooses to include here is telling. Typically, when the OT is quoted in the NT, the NT writer distills the OT passage down to its barest essential quote. But in the case with Peter at Pentecost, rather than stop at the Last Days uttering of prophetic words and visions, he includes Joel's revelation of the Day of the Lord, then closes with calling on the name of the Lord for salvation.
I contend that Peter's inclusion of the Day of the Lord section lends credence to a continuing of the gifts. The time period Peter gives in his Joel quote sets the stage for the charismata from the day of Pentecost to the Day of the Lord. If the charismata that Peter is attempting to explain expired (as cessationists believe) with the passing of the apostles or with the closing of the canon, neither of those two events—even by cessationist accounts—corresponds to the Day of the Lord. Even if one reads this with Preterist glasses, the apostle John lived thirty years past the fall of Jerusalem.
I found this intriguing. I hope you will, too.