Four days.
Yesterday, I joked about jumping back into the charismatic/cessationist debate that fueled the Godblogosphere discussion during the last quarter of 2005. Now Phil Johnson over at Pyromaniacs, mere hours after I posted my comments on Acts 2, is going to prove ONCE AND FOR ALL that the gifts have ceased. Four days into the new year and here we go again.
All I want to say in response is that my white flag is up—I quit.
No, Cerulean Sanctum isn't going away. But to be honest here, I really feel like we're wasting our time blogging if this is the best we can do with this fantastic medium for bringing together great Christian minds. If the sum total of Godblogging is to see who's right and who's wrong then we might as well pack it in.
This is not to say that on any given Christian doctrinal topic that some post on some blog somewhere at some time won't cause someone to change his/her mind. But more often than not, the camps just circle their wagons and pump a figurative QWERTY volley into the other camp. The end product is that everyone gets off a few stingers at someone else's expense, and like Civil War re-enactors, after a day we pick up our weapons and trudge off the battlefield to go back to being mechanics, photographers, real estate agents, middle managers, and hairdressers.
And what gets accomplished? A whole lot o' nothin'.
The Godblogosphere trend in 2005 that I most hated to see—and did not witness in previous years—was the increased cutting down of other Christian bloggers, denominations, movements, and so on. How this advances the cause of Christ is beyond me, though. It doesn't feed the poor, clothe the naked, or visit the prisoner.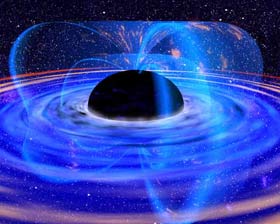 I'm almost positive it doesn't do all that well in making disciples, either. In short, all it creates is a black hole of wasted talents, wisdom, and time.
Some get it, though. The genius behind eBay, for instance, is that it brings together little bands of people in search of what other little bands of people have to sell. Hummel figurines from 1948? Got that. The cigarette lighter from a Mercedes Gullwing? Check. Every day, eBay leverages the power of individuals to make dreams happen for other individuals. It's the epitome of what the Internet can do.
So is blogging, my friends. When properly leveraged, blogging can bring together small bands of Christians to make amazing things happen. It can truly be an answer to prayer. Think of what a dozen likeminded bloggers can accomplish! It staggers the imagination.
What staggers me right now is how we're squandering this opportunity on squabbling.
A few days ago, I wrote about Bruce Wilkinson's implosion in Swaziland. I came right out and asked Wilkinson's critics what any of them had done to meet the oppressive need of the AIDS orphans in that blighted nation. I had to ask myself that question, too. Such a great need and yet here we are at each other's throats. My how that must honor the Lord!
Blogging represents a remarkable opportunity to be Jesus to people. Why are we dragging it into a black hole and tossing in all that Christ has blessed us with?
My call to Phil and anyone else out there who blogs or reads blogs is this: Let's stop one-upping each other so we can prove who's right and who's wrong. Instead, why not make 2006 the year that we Godbloggers united in the name of Jesus to make a difference in our neighborhoods, cities, states, countries and eventually the world?
Surely there are people all around us who have deep needs that we can fill if we can mobilize each other and our readers to reach out with an open hand in the name of Jesus. Isn't that a more God-honoring use of what Christ purchased for us than to ball that hand in a fist and shake it at each other?
Folks, is there anything we can do as a group to annihilate the Godblogosphere's black hole? I mentioned the failure of Wilkinson's Dream for Africa project. What can we bloggers and readers do to pick up that slack? Can we pool our collective minds and prayers to help all those kids in Africa? Or is it going to be the same old "I'm right and you're wrong" crap today, tomorrow, and the tomorrow after that until the Lord returns in wonder at how wasteful we all were with what He gave us.
I'm not arguing doctrine anymore. I'm out. Instead, I'm looking for others who want to make a difference for Christ in the lives of the hurting and the lost.
Good grief! We are so blowing golden opportunities! We can make a difference in the lives of real people beyond filling their heads with more knowledge they won't use. (I know my own head is full, but I'm not so sure about my heart.) We can meet the needs of brothers and sisters in Christ who are struggling with practical burdens in their lives. We can introduce the lost to Christ (I doubt they're reading our blogs) by working together to use our connectedness to connect them to Jesus.
Any single moms and dads out there who need someone to watch your kids so you can have a date or just some time to yourself? Are there any elderly people who have housework they just can't do because they can't find anyone with a few hours and a strong back to do it? Anyone with a special needs child who is looking for a friend for that child? Any prisoners who need someone to send you hard-to-get Christian materials? How can we Christian bloggers serve you?
As for us bloggers, we could start by putting together a Google map that places each of us and our respective churches on the map. From there we could start directing people to places they can get the help they need. If someone needs a Christ-honoring church, we could direct them to a blogger. That blogger could then pair up with him/her/them at the blogger's church and start making a difference to real people. This is just one way that we bloggers could meet a pressing need. Millions more exist. Now, when do we start brainstorming ways in which we can reach out? (Any Google Map guru want to take a shot at this or tell me how it can be done? I'm ready to go!)
To every Christian blogger and to every reader of our blogs, let's utilize this medium to make a difference for Christ in 2006 rather than dishonoring Him by tossing the opportunities He gave us into the black hole of our own petty bickering. It's amazing what happens when we put down the big guns and start ministering together. Maybe some of our differences won't seem all that great in the end.
Now who wants to join me?