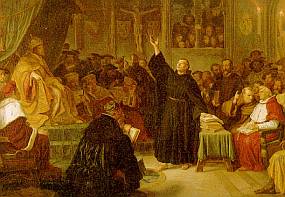 On Monday, I asked whether we had seen the last reformation within the Church. Many people believe Martin Luther's stand against the evils of the Roman Catholic Church was the last time God sought to reform His Church.
As you can probably guess, I don't share their opinion.
The Church is a living, breathing entity empowered by the Holy Spirit. As such, it will never live out the Faith in a manner that is static. God works His will His way in His time. Even as He raised up Martin Luther, He has and He will raise up others to call the Church back to His purposes.
The Spirit breathes where He desires, and you hear His voice; but you do not know from where He comes, and where He goes; so is everyone having been generated from the Spirit.
—John 3:8 LITV
We do not always know what God is doing, as He has not made us privy to His every action. But as surely as He works, He reforms, not only the individual submitted to Him, but the Church as a whole.
Because modern Evangelicalism has overemphasized the personal work of God in the life of the individual, we've lost the idea that God uniquely works within the Church as a whole. For this reason, too many of us Christians are satisfied with what we see changed in ourselves, rather than being satisfied with what God can change in the Church worldwide. Perhaps we've grown blind to reformation or have even opposed it because our vision has become so shortsighted, focusing on what God is doing in "me" rather than "us."
Still, I believe that reformation has come since Luther. There is a greater awareness of the person of the Holy Spirit and how He works than in some previous ages. I pray that remains and brings fruit within the whole Church. I believe that people are more attuned to the role of worship and praise in the believer's life. I also believe that some parts of the Church have awakened to the fact that the Enemy of our souls is fiercer than we believed him to be in some times past. All these little reformations need to expand and be taken seriously within the entire Church.
Some "movements" are seeking reformation status, but they will not survive unless they are ruthlessly true to the Lord and His Scriptures. All things of worth are tested by truth and time. If anything is of the Lord, time and the Spirit will reveal it. Men and women of God who are true to Him will see reformation in their lives and the life of their particular church.
The Protestant Reformation was one of grace. What reformation still needs to come?
A Reformation of Holiness and Consecration
A Reformation of Overcoming Faith
A Reformation of Prayer
A Reformation of the Knowledge of the Word
A Reformation of the Lordship of Christ
I'm sure there are more, but those five cannot be argued against. May God bring each of those reformations in our lifetimes!
Good things of God are being birthed. Reformation is ongoing.
Tags: Reformation, Holy Spirit, Church, Faith, Christianity, Jesus, God{Image: Martin Luther before the Diet of Worms}