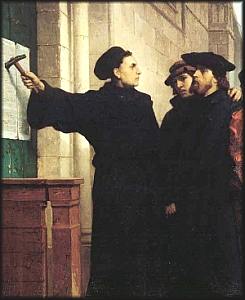 From the Shepherd's Conference (so ably liveblogged by Tim Challies) last week, Phil Johnson led a seminar called "Is the Reformation Over?" It's a good read. It's also a riff on Mark Noll's book of the same title, though I side with Johnson and not Noll.
Thinking over that question, I had another one: Is all reformation over?
What do I mean by that? Well, as you know, this blog's main talking point is the Church, specifically the American Church. From the day that Martin Luther pounded his Ninety-Five Theses to the front door of the Cathedral at Wittenberg, we've lived in a Church Age in which Protestantism has been considered—at least by Protestants—as the sole expression of the True Church. The stand he took against a blasé Roman Catholic Church that had fallen into ungodly excess and a tax-code-like set of rules for salvation should resonate with us all. We've lived out nearly five hundred years of Luther's assertion that salvation is by faith alone, not by works or any other man-made machinations. Thank God for Martin Luther's obedience to the Holy Spirit and the Scriptures!
But I wonder if his is destined to be the only Holy Spirit-inspired reformation of the Church.
If we were living in the age of RCC theocracy, would we—like Luther—have recognized the errors of what was then considered the only Church in the West? Being in the belly of the beast doesn't always afford a person the most objective view, but Luther saw beyond the innards and got it right.
But what if the 21st century Protestant Church has fallen into the same kind of mire as did the 16th century Roman Catholic Church? Are we in the need of a 21st century Reformation? Or have new reformations occurred on some level, but we've missed them for what they are, or have labeled them blips on the radar?
Can there be another Reformation? We've seen one of grace, but are other pressing Church issues in need of reforming?
What do you think?