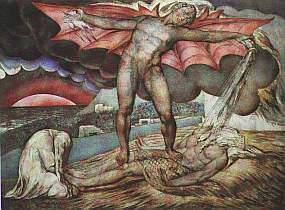 I was thinking about starting a series on the tough topics we avoid in our churches, but rather than putting them all together under one title, I thought I'd just post them when they happen. If anyone wants to link them together as they periodically occur, that's great. That way if some pressing topic arises or I'm not able to come up with good material, people won't ask what happened to the series—always embarrassing for us conscientious bloggers! 😉
Before we get into this topic, I do want to post a disclaimer: What follows does NOT imply that every sickness falls into the situations I'm discussing. So if you have a particular affliction or chronic illness, this may not apply to you at all—or it may. That's for you to determine before God. I'm just putting this out there because the biblical precedents exist.
Now [Jesus] was teaching in one of the synagogues on the Sabbath. And there was a woman who had had a disabling spirit for eighteen years. She was bent over and could not fully straighten herself. When Jesus saw her, he called her over and said to her, "Woman, you are freed from your disability." And he laid his hands on her, and immediately she was made straight, and she glorified God.
—Luke 13:10-13 ESV
Anyone who's been a Christian for any length of time will soon understand that the American Church has a number of different facets. Denominationalism has splintered us into thousands of fragments. Stay in any one fragment too long and all the other fragments begin to look odd, as if they're not all pieces of the same stone.
Those from a charismatic background are familiar with the kind of situation depicted in Luke 13. Others may not be. However, it's this kind of encounter that tests whether our fragment is open to something more or closed down to unfamiliar realities.
Jesus confronts a woman who has been crippled by a spirit. The Greek word is pneuma, the same word for "wind" or "spirit" that we see throughout the New Testament. This woman was a child of the Covenant; she is in the synagogue. If she had not been Hebrew, the synagogue leaders would not have allowed her to be there as she would have been unclean and would have made their place of worship unclean.
She was afflicted by an evil spirit that caused her physical disability. She did not, however, share the characteristics of those who were literally possessed by demons—she was in her right mind, was able to move under her own will, and was not self-destructive.
Still, she was hurting. We don't know how she got in this state, but it's clear that there was a spirit that affixed itself to her in such a way that she suffered physical problems. Jesus released her from this.
The other day, my son and I were in my truck when we pulled up behind an ambulance.

He remarked that the ambulance had blue "snowflakes" with snakes on them. I tried to explain that symbol to him based on its occurrence in Numbers, but that passage is a tough one to exegete for a five-year old:
From Mount Hor they set out by the way to the Red Sea, to go around the land of Edom. And the people became impatient on the way. And the people spoke against God and against Moses, "Why have you brought us up out of Egypt to die in the wilderness? For there is no food and no water, and we loathe this worthless food." Then the LORD sent fiery serpents among the people, and they bit the people, so that many people of Israel died. And the people came to Moses and said, "We have sinned, for we have spoken against the LORD and against you. Pray to the LORD, that he take away the serpents from us." So Moses prayed for the people. And the LORD said to Moses, "Make a fiery serpent and set it on a pole, and everyone who is bitten, when he sees it, shall live." So Moses made a bronze serpent and set it on a pole. And if a serpent bit anyone, he would look at the bronze serpent and live.
—Numbers 21:4-9 ESV
The people sinned by grumbling and ingratitude. Physical affliction swiftly followed. Some died. Others sought out God's cure; theirs was an unusual repentance: look at a bronze snake on a pole and be healed.
The result of sin was physical affliction. Some might consider the fiery serpents to be demonic in nature, some might not. Regardless, the point is clear.
Later on, God makes this promise to the Hebrews:
And the LORD will take away from you all sickness, and none of the evil diseases of Egypt, which you knew, will he inflict on you, but he will lay them on all who hate you.
—Deuteronomy 7:15 ESV
Who are the recipients of this promise of illness? Those who do not follow the ways of God.
We have the example of King Uzziah:
But when he was strong, [Uzziah] grew proud, to his destruction. For he was unfaithful to the LORD his God and entered the temple of the LORD to burn incense on the altar of incense. But Azariah the priest went in after him, with eighty priests of the LORD who were men of valor, and they withstood King Uzziah and said to him, "It is not for you, Uzziah, to burn incense to the LORD, but for the priests the sons of Aaron, who are consecrated to burn incense. Go out of the sanctuary, for you have done wrong, and it will bring you no honor from the LORD God." Then Uzziah was angry. Now he had a censer in his hand to burn incense, and when he became angry with the priests, leprosy broke out on his forehead in the presence of the priests in the house of the LORD, by the altar of incense. And Azariah the chief priest and all the priests looked at him, and behold, he was leprous in his forehead! And they rushed him out quickly, and he himself hurried to go out, because the LORD had struck him. And King Uzziah was a leper to the day of his death, and being a leper lived in a separate house, for he was excluded from the house of the LORD. And Jotham his son was over the king's household, governing the people of the land.
—2 Chronicles 26:16-21 ESV
Uzziah was stricken with illness because of his sinful arrogance. We see a similar incident when Gehazi has a row with Elisha and is struck with leprosy:
He went in and stood before his master, and Elisha said to him, "Where have you been, Gehazi?" And he said, "Your servant went nowhere." But he said to him, "Did not my heart go when the man turned from his chariot to meet you? Was it a time to accept money and garments, olive orchards and vineyards, sheep and oxen, male servants and female servants? Therefore the leprosy of Naaman shall cling to you and to your descendants forever." So he went out from his presence a leper, like snow.
—2 Kings 5:25-27 ESV
Paul writes on this subject in the New Testament, too, showing how sin can cause illness:
Whoever, therefore, eats the bread or drinks the cup of the Lord in an unworthy manner will be guilty of profaning the body and blood of the Lord. Let a person examine himself, then, and so eat of the bread and drink of the cup. For anyone who eats and drinks without discerning the body eats and drinks judgment on himself. That is why many of you are weak and ill, and some have died.
—1 Corinthians 11:27-30 ESV
That's a hard passage to ignore.
Sin and sickness are intrinsically woven together. The New Testament shows this particularly well when Jesus meets up with the paralytic in one of his earliest and most famous healings:
When Jesus perceived their thoughts, he answered them, "Why do you question in your hearts? Which is easier, to say, 'Your sins are forgiven you,' or to say, 'Rise and walk'? But that you may know that the Son of Man has authority on earth to forgive sins"—he said to the man who was paralyzed—"I say to you, rise, pick up your bed and go home." And immediately he rose up before them and picked up what he had been lying on and went home, glorifying God.
—Luke 5:22-25 ESV
The interplay here of forgiveness of sins and healing is quite powerful. We see this elsewhere in James, one of the most powerful statements on healing in the New Testament, but one we don't often believe:
And the prayer of faith will save the one who is sick, and the Lord will raise him up. And if he has committed sins, he will be forgiven.
—James 5:15 ESV
Again, sin and sickness are tied together, as are healing and forgiveness.
Let's go back to the woman in Luke with the afflicting spirit…
Besides sin, there is a demonic component to sickness. Those who commit sinful acts are prone to demonic activity. Paul confronts the sexual immorality of a man in the Corinthians church by offering this:
When you are assembled in the name of the Lord Jesus and my spirit is present, with the power of our Lord Jesus, you are to deliver this man to Satan for the destruction of the flesh, so that his spirit may be saved in the day of the Lord.
—1 Corinthians 5:4-5 ESV
Later, the apostle confronts another two:
This charge I entrust to you, Timothy, my child, in accordance with the prophecies previously made about you, that by them you may wage the good warfare, holding faith and a good conscience. By rejecting this, some have made shipwreck of their faith, among whom are Hymenaeus and Alexander, whom I have handed over to Satan that they may learn not to blaspheme.
—1 Timothy 1:18-20 ESV
Matthew Henry's commentary argues that this delivery into the hands of Satan makes these men prone to whatever Satan may bring their way. He especially notes that sickness and attacks in the flesh are to be expected. And though Job was blame-free, his own experience with Satan proves one of the means of demonic operation is physical illness:
And the LORD said to Satan, "Have you considered my servant Job, that there is none like him on the earth, a blameless and upright man, who fears God and turns away from evil? He still holds fast his integrity, although you incited me against him to destroy him without reason." Then Satan answered the LORD and said, "Skin for skin! All that a man has he will give for his life. But stretch out your hand and touch his bone and his flesh, and he will curse you to your face." And the LORD said to Satan, "Behold, he is in your hand; only spare his life." So Satan went out from the presence of the LORD and struck Job with loathsome sores from the sole of his foot to the crown of his head.
—Job 2:3-7 ESV
Spirits, sin, and sickness—they all go together.
Now some will protest saying that it's not always that way. They'd be right, too. Sometimes an illness is just an illness, the result of no singular act of sin, no demonic affliction, but the simple truth of living in a fallen world. There certainly is truth to that, too:
As [Jesus] passed by, he saw a man blind from birth. And his disciples asked him, "Rabbi, who sinned, this man or his parents, that he was born blind?" Jesus answered, "It was not that this man sinned, or his parents, but that the works of God might be displayed in him."
—John 9:1-3 ESV
We see righteous King Hezekiah sick and ready to die, though not due to any particular sin:
In those days Hezekiah became sick and was at the point of death. And Isaiah the prophet the son of Amoz came to him, and said to him, "Thus says the LORD: Set your house in order, for you shall die, you shall not recover." Then Hezekiah turned his face to the wall and prayed to the LORD, and said, "Please, O LORD, remember how I have walked before you in faithfulness and with a whole heart, and have done what is good in your sight." And Hezekiah wept bitterly. Then the word of the LORD came to Isaiah: "Go and say to Hezekiah, Thus says the LORD, the God of David your father: I have heard your prayer; I have seen your tears. Behold, I will add fifteen years to your life."
—Isaiah 38:1-5 ESV
This is why discernment is called for when dealing with sickness.
But for the purposes of this post, I wish to stick with the kind of illness that has as a spiritual component to it that can be traced back to sinfulness, particularly willful sin.
Too many of us don't think about our sicknesses this way. When we suffer physical ailments, we are too willing to make the cause viral, bacterial, or just the vicissitudes of life. Outside of charismatic circles, too many Christians don't like to think about an evil spirit underlying a specific illness. Attaching our sickness to sinfulness in our own life isn't a commonplace belief in some parts of the Church. We've seen what the Bible says, though.
Some afflictions are readily tied to sin. Any doctor worth his medical degree will tell you that gluttony and sloth contribute to heart disease and adult-onset diabetes. Sexual immorality leads to a litany of STDs. Every day the newspapers and TVs trumpet some new reason for why we're sick, and often the diagnoses go back to sins of omission and commission.
Most are obvious, but some may not be. Is it possible that the startling rise in casual porn use may be responsible for the equally startling rise in GERD (acid reflux disease)? Or that depression might be linked to having a judgmental or critical spirit? Or that arthritis might be due to envy? Is it that impossible to believe that our afflictions have a spiritual component, that evil spirits may bring certain afflictions (like that of the bent woman in Luke), or that we suffer needlessly through some of our illnesses because we refuse to repent of besetting sins?
I believe we must ask these questions, but not enough churches are led by people willing to ask them. And if the leaders of those churches don't ask, how many of their congregants will?
Our response must be discerning. We must rely on the Holy Spirit to reveal these things. His promise is that He will. Just as Jesus was able to discern different kinds of evil spirits, so must we. It is our responsibility before God to confront what lurks behind an illness (be it sin, the demonic, or a combination of both) and shine the healing light of Christ upon it.
We mustn't settle for what the naysayers are telling us. We must test these things against the Scriptures and by the Holy Spirit. At least as I see it, the Bible is very clear on this issue. If we take the Scriptures for what they say, we just might see more miracles.
We may even find ourselves healed in the process.