If you've been a longtime reader, you know that one of my pet peeves is the speed at which our lives today fly by us. Too many Christians are caught in a perpetual hamster wheel of activity. None of that benefits us, the Church, or the Lord.
But what to do about it?
Al Mohler asked the same question earlier this week, lamenting the "sound byte-ing" of classical music. Even on a classical music station, you can't hear an entire symphony anymore, just its best passages. As a classical music fan myself, I know exactly what he means.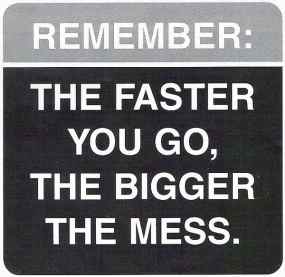 Stations have ratcheted up the speed to fit leisurely classical music pieces into hectic schedules. Next thing you know, they'll be time compressing the "Moonlight Sonata." You can read his post here.
I blow hot and cold with Mohler, though. While he's a big name in the Reformed Baptist camp, his posts and writings usually tell people what they should be doing, but without the means or info needed to do those things. Again, consistent readers know that I loathe that kind of "do this, but don't ask me to help you do it" mentality in so many parts of the church.
But Mohler, usually quick with an answer, has no response to fixing the blatant hurriedness quagmire we find ourselves in. That's also pretty typical of large swaths of the Church in America—recognize the problem, but offer no way to deal with it other than to say that we need to slow down.
Part of the problem here is that the Church, at least in this country, may have created the problem—or at least abetted it.
I've long contended the way to fix our issues with time is to correct the way we work. Ten hour days with additional two hour commutes is a good place to start repairing. People can't have normal lives devoting twelve hours a day to work far away from home. Sadly, the very Protestant work ethic this country was founded on powers our work ethic today.
There's nothing inherently wrong with the Protestant work ethic that arose from the Reformation's freeing of workers to know that their work honors God. Where it goes astray is when it is removed from local economies and translated into the typical "drive downtown to the office" kind of work we grew used to working during the Industrial Revolution. If you've read my series on "The Christian & the Business World", you've got the basis for understanding the depths of the problem. (Read the series—you won't read anything like it anywhere else in the Godblogosphere.)
So here's what I recommend to Al Mohler. He's a big name and has a large readership, far larger than mine. The plea:
Dr. Mohler,

Please use your considerable base of readership to start challenging the entire concept of how Christians should work. Throw out every assumption about work that's been foisted on us by "The System." Start asking what a genuine expression of Christian work should look like in the 21st century. Start asking how we can revitalize local economies and restore the simpler joys of working cooperatively with our neighbors. Read a book by Wendell Berry and ask if even a single thing he says makes sense for Christians today. Take the "red pill" and help others break out of the Matrix.

Don't just concede and say, "It's a tough problem and I've got no answers." Christians are supposed to have answers. You expect your readers to have answers to the questions you raise and to solve those issues you point out in their own lives. Why not expect it of yourself?

Help us to institute the kind of life God desires of His children from the very first day He placed them in the Garden and gave them the command to work and steward the Earth.

Thank you. May God give you and other Christian leaders the vision to help us break out of the rat race and live life like the human race, the life God intended.