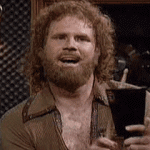 I don't normally begin a week with a More Cowbell Award, but I spent most of last week ruminating on the topic, then spoke to someone who totally agreed with the need to give out an award for this. So the award that no one wants to win returns to smiting duties.
For those following the scorecard, the More Cowbell Award is Cerulean Sanctum's virtual stoning of stupid, vacuous, and over-the-top trends in modern American Christianity. Previous More Cowbell Awards have gone to the Church Growth Movement, children's choirs in adult CCM, Christian conspiracy theorists, and Christian adware.
What makes this fifth edition of the More Cowbell Award so unusual is that I have nothing funny to say about the award recipients. Truth is, I'm continually appalled by them. Worse yet, I don't read a lot of Godbloggers blogging about this issue. And unlike some other More Cowbell Awards, I have professional training and experience that may actually qualify me (GASP!) to speak on the subject.
And what would that subject be?
Well, this More Cowbell Award is given to that sound and fury that signifies nothing, yet is remarkably prevalent in our churches on Sunday, and well known throughout the summer. In other words, the fifth installment of the More Cowbell Award is presented to
Children's Christian Education Programs
(including Sunday School, Vacation Bible School, and Summer Camp)
Surprised? You shouldn't be. Let's face it: most Christian education programs for kids are little more than babysitting functions wrapped in a Christianized veneer ultimately devoid of the Gospel message.
I don't know the people designing the curricula used to teach kids about Christ, but all I can say is those folks are doing a horrendous disservice to the parents of those kids and the kids themselves. I used to design curricula for camps and was routinely horrified at the assumptions the curricula designers made about a child's eternal state.
Somehow we've created this sheen about kids that says that all of them are flesh-and-blood Precious Moments figurines. That bedrock assumption fuels almost all learning materials aimed at little kids. But here's the truth: All have sinned and fall short of the glory of God. Unless someone is born again, they have no relationship with God. Yet all of the Sunday School, Vacation Bible School, and Summer Camp curricula I've ever come across overlooked that truth and naturally assumed that somehow every kid got magically saved by little fairy evangelists that hovered around their pillows for ten years and whispered the Gospel in their ears.
Is there anything more tragic than a kid who's heard every "Bible story" in the world, but never once got a real Gospel presentation aimed at their age group? By the time they're teens, I suspect most kids can recite the stories of David & Goliath, Moses & The Burning Bush, Joseph & His Coat of Many Colors, and any other "X & Y" story we can give them each Sunday, but they don't know the Lord and they have no idea how to be saved.
Some reading this will yell, "Well, where are the parents?" and that's a great point. But on the other hand, the parents are assuming their child is getting a "Christian Education" from "Christian Educators," only to find out too late that this education never went beyond the crayoned picture their child brought home captioned with the message, "God made a rainbow!" God made a hell, too, and we certainly don't want anyone to end up there.
Too harsh? I think we parents need to get more harsh. Yes, a child may get the Gospel message at home, but until it sinks in and makes a difference in his or her life, I don't think we should encourage Christian educators to waste time on "Jesus wants me to be good" stuff that has no effect on an unregenerate soul.
When I worked in Christian Camping I automatically tossed all the curricula the camp gave me and went back to a clear presentation of our sin nature, our separation from God, our eternal destiny, Christ's atoning work, and our need to die at the cross in order to be born again. Anything else was gravy, but at least the kids got the basis of the Gospel.
While we're at it, let's also clarify that "Ashley, did you ask Jesus into your heart?" coupled with little Ashley's head nod does not equate to knowing that Ashley is born again. In fact, what's the deal in so many churches with cajoling kids into asking Jesus into their hearts? My Bible doesn't list that as being the mechanism for salvation. We know what the Bible says about leading a little one astray, don't we? Well, evidently not.
Is it any wonder that 85% of kids drift away from church between the ages of thirteen and sixteen? They've been David & Goliath'ed and Noah's Ark'ed to death, but they never heard about their own need to die at the cross and be born again. Again, am I being too harsh? Well, I double-dog dare you to find any presentation of the Gospel in this popular VBS program. Evidently, asking teens how they feel about Ashton Kutcher is more important than being saved and growing in knowledge of Jesus Christ.
I'm disgusted by the throwaway junk I see kids coming home with from Sunday School. Makes me sick to see the content of the typical VBS program. And don't get me going on the stuff they teach kids at camp.
Am I the only one that feels this way? I guess I am, because I see little uproar from parents over the vapid Christian education their kids are getting outside the home.