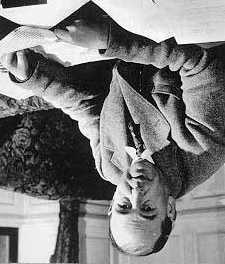 I mostly read dead authors, at least when I'm considering Christian theology. Call me crazy, but I find more truth in those writers than what I read in modern ones. My personal library reads like a big list of dead guys: Lloyd-Jones, Schaeffer, Tozer, Lewis, Bounds, Ravenhill, Edwards, Nee, Murray, Torrey, and Bonhoeffer.
We all have our pantheon of Christian greats, the people who inspire us and many times provide us our ideas as to what is true and right within the Christian life. I listed some of mine above. I'm sure you have your own.
But sometimes our Hall of Christian Fame gets us in trouble. From the reaction in some corners of the Godblogosphere, Tim Challies tossed a heap of burning coals on his own head last week when he quoted a list of great Christians who believed the Roman Catholic Church to be the antichrist.
No matter where you stand on that topic, the question lingers: Can great Christians be mistaken?
When I was at Wheaton College, I took a New Testament overview class from Dr. Robert Yarbrough, currently professor of New Testament at Covenant Theological Seminary. (I'll say without flinching that Dr. Yarbrough may be the most intelligent Christian I've ever met, especially when it comes to the Bible. That class was my favorite at Wheaton.) When he discussed Revelation, he outlined at least a dozen end times scenarios, when they were popular, and most of all, some great Christians who supported those scenarios.
What struck me during that teaching was not the scenarios themselves, but the revelation (excuse the pun) that some exceedingly wise and far more biblically diligent folks than I arrived at the wrong eschatology. And for those who avoided predictions as to when the end would come, the law of non-contradiction alone will prove most of those theologians wrong when the End indeed arrives.
Given that all of us have fallen short of the glory of God and see through a glass darkly, ALL great Christians are wrong somewhere in either their faith or practice. I'm willing to say that the apostles were certainly as close as it gets to perfection, yet Peter's brush with the Judaizers showed that even apostles could have feet of clay.
This is not a question of Biblical infallibility. I believe the Bible to be the perfect and infallible word of God.  But this IS about the foibles of human agents of God.
Pick a topic and you'll find great Christians on opposing sides. At Monergism.com, witness the solid people at opposite poles on the credobaptist and paedobaptist position. Someone's wrong, right? Who wins the tag team between John MacArthur and John Piper (credobaptists) and John Calvin and Martin Luther (paedobaptists)? If you want to go with the bulk of historicity here, then the latter win.
But what if the Reformers are wrong? And if they're wrong on that one position, what other errors may lie in waiting for the undiscerning?
It bothers me sometimes that we treat great Christians as if they could never, ever, in a billion years have a mistaken position on an important piece of doctrine. The Godblogosphere is bristling with defenders of this great Christian or that, and God help anyone who questions that great Christian for even one second! People are so dogmatically in one corner massaging the shoulders of their Spurgeon, Tozer, Aquinas, or Merton and whispering into their man's ear, "Throw the uppercut this round!" that they're blind to their hero's own glass jaw.
It's not just dogma, either. It's fairly common knowledge that some Christian greats who were married didn't have rosy marriages by the standard we uphold today. No one liked Wesley's wife, and evidently, neither did he. (Gives a whole new perspective to the amount of time John spent away from home.) Plenty of great Christians smoked and drank alcohol (which I think will get you pilloried in the SBC, if the latest conference is any indication), while other great Christians opposed such behavior. Who's right? Who's wrong?
The Bible says this about our hero fascination:
But I, brothers, could not address you as spiritual people, but as people of the flesh, as infants in Christ. I fed you with milk, not solid food, for you were not ready for it. And even now you are not yet ready, for you are still of the flesh. For while there is jealousy and strife among you, are you not of the flesh and behaving only in a human way? For when one says, "I follow Paul," and another, "I follow Apollos," are you not being merely human? What then is Apollos? What is Paul? Servants through whom you believed, as the Lord assigned to each. I planted, Apollos watered, but God gave the growth. So neither he who plants nor he who waters is anything, but only God who gives the growth. He who plants and he who waters are one, and each will receive his wages according to his labor. For we are God's fellow workers. You are God's field, God's building. According to the grace of God given to me, like a skilled master builder I laid a foundation, and someone else is building upon it. Let each one take care how he builds upon it. For no one can lay a foundation other than that which is laid, which is Jesus Christ.
—1 Corinthians 3:1-11 ESV
Just a couple weeks ago, a commenter at another blog said she'd gotten a lot out of reading Watchman Nee. The very next comment was from someone warning her about Nee. I immediately responded that the Bible teaches us to be discerning about ALL things, not just what troubles us. Truthfully, the greatest errors arise when we cast our discernment aside because "Hey, I'm reading my favorite Christian great who I've enshrined on my altar of godliness." What we build upon the foundation of Jesus Christ matters, and from time to time even the Augustines, Spurgeons, Tozers, Calvins, Luthers, Lewises, and Schaeffers of this world molded a few questionable bricks.
As the great theologian Sergeant Phil Esterhaus of Hill Street Blues fame proclaimed:
"Hey, let's be careful out there."