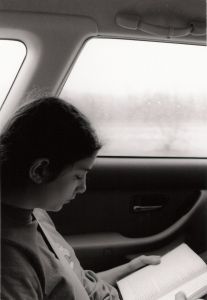 I thought I'd have my novel completed in January.
Sickness hit and January slid into February. February saw me finally completing the first draft. YEAH! It's been rough going ever since.
Even now, I'm ogling a foot-high-plus stack of drafts that I ran past my writers group, The Write Brothers. Smart them, they edited their own works as other Brothers commented. Me? I saved it all till I was ready to edit. Again, for a four-hundred-page novel, that becomes a stack of edits as tall as my size thirteen foot.
So I'm slowly making my way through it all. Emphasis on the slowly.
In the meantime, I'm reading Charlie and the Chocolate Factory with my son. We'll finish it today. If I could capture a third the magic that Roald Dahl imbues in his fiction, I'd be happy.
But to an aspiring novelist, the joy of great fiction is not in the publishing, but in the power of story and its ability to make us better people.
My son will be six in August, but even he can see the sins of the four brats who met ignoble ends in Mr. Wonka's mind-bending factory. Not more than a couple hours ago, we read the song the Oompa-Loompas sang over Mike Teavee, the boy addicted to television. Through their song, Dahl spares no expense criticizing the brain-numbing aspect of TV and the counterpoint fascination of storytelling found in a good book.
When I write the words that comprise my novel, Fade into Blue, I pray that every word carries in it the strength of a redeemed imagination. There exists in a book a wonder that can be found nowhere else. Television supplies all the answers, but a book asks something from those who read it. As C.S. Lewis writes in his Experiment in Criticism:
What then is the good of … occupying our hearts with stories of what never happened and entering vicariously into feelings which we should try to avoid having in our own person? … The nearest I have yet got to an answer is that we seek an enlargement of our being. We want to be more than ourselves. We want to see with other eyes, to imagine with other imaginations, to feel with other hearts, as well as our own. … In reading great literature I become a thousand men and yet remain myself.
Many times in this blog, I've noted a failing of some believers to step out of themselves for even one second and be another person, to see with different eyes, to better understand through another person's perspective the failures, joys, sins, and redemption each of us experiences uniquely. The power of story, as Lewis notes, allows us to be a thousand men, a thousand women, and yet still be ourselves. I would contend that story allows God's grace to flow in a way we sometimes stymie when faced with reality. A gifted writer fashions characters who allow us to understand another in the pages of fiction that we might otherwise avoid entirely in everyday life.
If we are told a man is a thief, our judgments flow. But what if the grace of God can transform a robber into something more? We may not have any experience with thieves, but we may know of Jean Valjean from Victor Hugo's Les Miserables. Having just passed nineteen years in a French jail for stealing a loaf of bread, Valjean is released. Destitute, he is taken in by a kindly bishop and the man's sister. In return, Valjean steals the bishop's silverware and hightails it out of town. The story picks up below:
As the brother and sister were about to rise from the table, there came a knock at the door.

"Come in," said the Bishop.

The door opened. A singular and violent group made its appearance on the threshold. Three men were holding a fourth man by the collar. The three men were gendarmes; the other was Jean Valjean.

A brigadier of gendarmes, who seemed to be in command of the group, was standing near the door. He entered and advanced to the Bishop, making a military salute.

"Monseigneur—" said he.

At this word, Jean Valjean, who was dejected and seemed overwhelmed, raised his head with an air of stupefaction.

"Monseigneur!" he murmured. "So he is not the cure?"

"Silence!" said the gendarme. "He is Monseigneur the Bishop."

In the meantime, Monseigneur Bienvenu had advanced as quickly as his great age permitted.

"Ah! here you are!" he exclaimed, looking at Jean Valjean. "I am glad to see you. Well, but how is this? I gave you the candlesticks too, which are of silver like the rest, and for which you can certainly get two hundred francs. Why did you not carry them away with your forks and spoons?"

Jean Valjean opened his eyes wide, and stared at the venerable Bishop with an expression which no human tongue can render any account of.

"Monseigneur," said the brigadier of gendarmes, "so what this man said is true, then? We came across him. He was walking like a man who is running away. We stopped him to look into the matter. He had this silver—"

"And he told you," interposed the Bishop with a smile, "that it had been given to him by a kind old fellow of a priest with whom he had passed the night? I see how the matter stands. And you have brought him back here? It is a mistake."

"In that case," replied the brigadier, "we can let him go?"

"Certainly," replied the Bishop.

The gendarmes released Jean Valjean, who recoiled.

"Is it true that I am to be released?" he said, in an almost inarticulate voice, and as though he were talking in his sleep.

"Yes, thou art released; dost thou not understand?" said one of the gendarmes.

"My friend," resumed the Bishop, "before you go, here are your candlesticks. Take them."

He stepped to the chimney-piece, took the two silver candlesticks, and brought them to Jean Valjean. The two women looked on without uttering a word, without a gesture, without a look which could disconcert the Bishop.

Jean Valjean was trembling in every limb. He took the two candlesticks mechanically, and with a bewildered air.

"Now," said the Bishop, "go in peace. By the way, when you return, my friend, it is not necessary to pass through the garden. You can always enter and depart through the street door. It is never fastened with anything but a latch, either by day or by night."

Then, turning to the gendarmes:—

"You may retire, gentlemen."

The gendarmes retired.

Jean Valjean was like a man on the point of fainting.

The Bishop drew near to him, and said in a low voice:—

"Do not forget, never forget, that you have promised to use this money in becoming an honest man."

Jean Valjean, who had no recollection of ever having promised anything, remained speechless. The Bishop had emphasized the words when he uttered them. He resumed with solemnity:—

"Jean Valjean, my brother, you no longer belong to evil, but to good. It is your soul that I buy from you; I withdraw it from black thoughts and the spirit of perdition, and I give it to God."
Jean Valjean, broken by this act of gracious forgiveness, indeed becomes a changed man who goes on to right great wrongs in the world because of his encounter with a man of God who showed him grace.
The power of story allows us the grace to be both the forgiving bishop and the forgiven thief. Their story enlarges us as people, distilling Gospel truth into the ordinariness of our own lives. Story grants us the chance to live what we have heard, to be changed by what we read.
Many Christian novelists have noted that there is only one archetypal story and all works that we write are mere copies of it. As a Christian novelist myself, I believe this to be true. And with that belief comes the one hero, the Lord Jesus, who embodies in Himself all heroes, He being the true image to which we all aspire.
In the end, the power of story is His story.
If the power of story has enlarged you as a person, leave a comment and let us know which fictional works have touched your own life.