I've been wanting to write this post for some time, but never found a perfect time to do so. In light of the Ted Haggard scandal, with so many advocating a greater honesty, more openness, and a greater reliance on personal confession (myself included), I wish to discuss one enormous barrier to that advice.
Two months from now will mark the 30th anniversary of my conversion to Christ. I've witnessed plenty of trends in the American Church during that time, but only in recent years has the Lord opened my eyes to one of the more intractable prejudices.
We Christian men have a serious disconnect concerning honesty, openness, and personal confession. We may claim that those things are good for the soul, but God help any man who truly practices those disciplines.
How so?
While I'm speaking solely from what my own eyes have seen, men who consistently share their personal failings will eventually get a cold shoulder from other men in the church. Men who talk about their mistakes, who are unafraid to communicate with others, get treated like wimps, pansies, wusses and any other unmasculine name you can think of.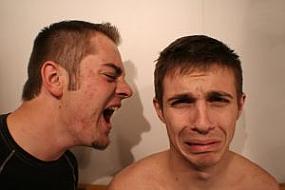 Other men will start spending less time with them, choosing instead to huddle up with the group of guys who prefer to talk about last night's football game—the same group of guys that never lets their inner demons be known.
At a time when Christian men are sucking up men's books featuring tough-as-nails guys who hunt bear with a pointy stick, the man who weeps over his own sin gets relegated to the quilting bee. How we ever ended up with that sort of thinking is beyond me, but I've seen it. Better to be the strong silent type and laugh at a ribald joke on occasion than to communicate one's failure.
I'd like to think this misperception's only been around since churches started mimicking the "win-at-all-cost" propaganda of the business world, but I'm not so certain. Perhaps we've always cast a negative glance at the man who talks just a bit too much about his failings. Nothing kills more men in their hearts than to have someone think them soft. And nothing is softer than to talk about one's own sin.
Is it any wonder then that so many men flameout in spectacular ways? And it's usually the man's man, not the confessional guy, who winds up incinerated. Why the enormous pressure? Are we that performance driven in the man's world that we can't handle a little personal confession?
We've got to stop the denigration. We can talk all we want about communicating our own failings and sins, but if we're still equating that kind of openness with being a wimp, we'll never get anywhere. I don't care if it's fear, pride, or self-loathing that's driving that shunning, we've got to convince Christian men that living a life of honest confession won't wither their cojones.