A quick observation…
In the course of the 3.5 years Cerulean Sanctum's been alive, I've publicly offered to pray for my readers at least two dozen times.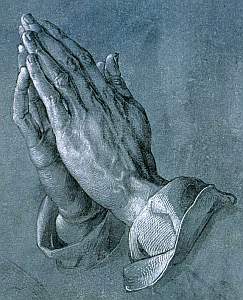 About specific issues I posted on, general needs—whatever.
To my amazement, I would say less than a dozen people have taken me up on that offer. Curiously, of those who have, the majority are not Americans.
Me? Hey, anyone who wants to pray for me, please do! I'll take all the prayer I can get. The thought that someone out there is praying for me means all the world to me.
So I'm amazed at the reticence of others to take me up on my offer to pray for them.
I've written previously that I believe that most of the world's people are in hell already because they have no prayer covering, no born-again Christian praying for them.  I'm positive that even though they may not be Christians, those folks would embrace an offer from another person to pray for them.
So why is a Christian so reluctant to take another Christian up on a no-strings-attached offer of prayer?
Thoughts on this phenomenon?