By the time I'd counted my tenth radar-wielding cop in only twenty miles, I could only shake my head. I'm no speed demon, don't get me wrong. Still, I knew our ride back home from visiting the in-laws over Memorial Day would be more snail-like than usual. People get cowed by all the law enforcement and they take on a herd mentality that makes good driving impossible.
When a mobile cop car pulled onto the highway, I knew we were done for. Every lead-footed, Top-Gear-watching, Michael Schumacher wannabe suddenly spazzed and downshifted into second. Think "trailing the pace car" kind of gridlock here as about forty vehicles all jammed together behind the cop car, each driver petrified of passing him. Three lanes of gear jockeys cursing their dumb luck scrunched onto I-71 heading south through Amish country. Oh, joy.
What did I think? What a bunch of frauds.
And they were frauds twice over, too. If they truly were crazed speed enthusiasts, you'd think one would have the guts to pass the cop (who was doing about 55 in a 65 zone). On the other hand, they all acted like law-abiding little old ladies out for a Sunday drive in their pristine K-cars—another lie.
Frauds.
I think most of us are frauds, each in his or her own way. Our society doesn't reward honesty. Doesn't give out medals to people who keep it real. We may think Jeff Bridges' iconic character from The Big Lebowski, The Dude, epitomizes a guy just being, but he's a fictional character in a movie mouthing fictional statements written by someone else. The whole thing smacks of fraud when you distill it down to its essence.
I think most people in this country would die a thousand times over if other people knew what they were truly like, could know their thoughts, could feel their insecurities. I think most spouses have never scratched the surface of what the other looks like deep in his or her heart of hearts.
I'm convinced that far too many Christians in churches around this country live a fraudulent life filled with keeping up an aura of spiritual perfection. They go through life as someone they're not.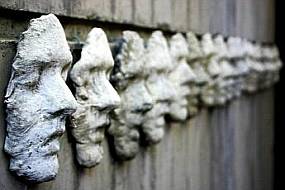 A few live in such self-deception they don't even know they're doing it. Still, most do know—and they hate themselves for it.
In the very early days of this blog, I'd get e-mails from folks castigating me for being holier than thou simply because I pointed out a few things I thought we all could do better. Me, holy? No, I'm just as fraudulent as the next guy. I think as time went by, people saw through whatever mask they thought I was holding up. But what they didn't see was the more subtle one I wear all the time. It looks like me, only better, stronger, sharper, and swifter—but most of all, more spiritual.
When we age, the first thing that goes is pretense. Suddenly, the young punk down the street we used to dust in pickup basketball is creaming us every Saturday. We reek of wintergreen the day after, too. In the silence of our homes, we hear the knees creaking.
It happens the same way in the soul of the Christian attuned to the Lord. (At least it should.) We wake up and see that same masked face in the mirror. And when we pray, the Holy Spirit shows us that same lingering shadow of the Old Nature. He tries to get us to admit we're frauds, but it doesn't come easy. People talk. People have opinions. People, people, people—that same old fear of men. A snare, the Bible says.
The Bible also says this:
Therefore, if anyone is in Christ, he is a new creation. The old has passed away; behold, the new has come. All this is from God, who through Christ reconciled us to himself and gave us the ministry of reconciliation; that is, in Christ God was reconciling the world to himself, not counting their trespasses against them, and entrusting to us the message of reconciliation. Therefore, we are ambassadors for Christ, God making his appeal through us. We implore you on behalf of Christ, be reconciled to God. For our sake he made him to be sin who knew no sin, so that in him we might become the righteousness of God.
—2 Corinthians 5:17-21
We are ambassadors of Christ, and as such we represent the government of a new Kingdom with reconciliation as its message. And ambassadors don't get to be ambassadors by clinging to fraudulent identities. No, they endure a character trial that proves their mettle. In other words, No Frauds Allowed.
All of creation awaits our coming into our ambassadorship. It's groaning, in fact, that we come into our own, that "own" Christ established before the foundation of the world.
If only we'd put down the fraudulent lives, the fears, the secrets, and step into the Light.