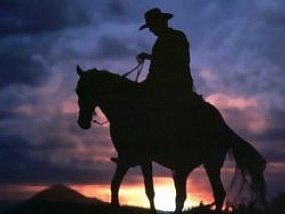 We moved 45-60 minutes away from many of our long-time friends when we bought our house six years ago. Almost all of them have wondered why we moved "so far away." An hour seems like a long drive to them, but we drive that almost every day, so we don't understand how it becomes an issue impossible to overcome.
Our neighbors tell us their friends say the same thing.
We're rural, but not so far away that we're an outpost on the edge of civilization. A big Kroger grocery store hunkers seven minutes away from us. Besides a half-dozen homegrown eateries, we have about nine chain fast-food restaurants. Heck, we have a Chinese restaurant in town, so how rural can we be?
Last week, I posted an A.W. Tozer piece (in the post "Imagination and the Christian") that talked about the Church on the frontier. I've been thinking about that post since then and have a few more thoughts.
When I think of the frontier, it's hard for me not to envision Little House on the Prairie. The Laura Ingalls Wilder book series told of numerous challenges her family faced as they eked out an existence in the middle of nowhere. Adventurous stories for sure.
In the 1960s, the TV show "Green Acres" spoofed Little House on the Prairie by dropping a couple of cultured urbanites into a rural environment. Hijinks ensued, in particular those revolving around socialite Zsa Zsa Gabor's failed attempts to adapt to the uncouth nature of the hick culture enveloping her. What worked in a New York penthouse apartment failed miserably in the country.
Our neighbor in front of us, an old farmer, maintains a perpetual grin around me because I think he sees me as the Eddie Albert character from that show. I have not one farming bone in my body, and I'm sure my failed attempts to do the most simple farm-related work must leave him in hysterics. Nearly six years ago, I brought home my Kubota tractor and he commented that "it wasn't green." Translation: You went and bought one of them Japanese tractors instead of a John Deere? How could you?
He forgives me, I think, since he's always prepared to help us city slickers and never asks for anything himself. I'm not sure how we could help him anyway, at least with anything farm related.
The point of all this is that things are different out on the frontier.
When I look at the Church in America, I see Zsa Zsa clad in a Vera Wang on her penthouse balcony sipping a Manhattan, her Bichon Frise in a diamond-studded dog collar at her side. What does she know of the frontier? Lack? What lack? She dials her iPhone and chats up a friend, planning to meet her at Nieman Marcus for a little shopping distraction.
But it's not like that on the frontier. Wild animals! Savage weather! No AT&T, no iPhone! No electricity at all! Items and services considered essential in Beverly Hills become a lead-weighted albatross on the frontier. The frontier's meaner and requires a heartier soul.
Imagine the socialite peering through some long-range telescope to observe the rubes on the frontier. How primitive they are. They get by with nothing! How can anyone live like that?
I think, though, that God dwells on the frontier. As the Kingdom continues to expand, its vistas constantly run along the frontier. And not just in primitive places, but frontiers in our own backyards.
How can Zsa Zsa understand this? She thinks she can transplant her urban world into that frontier. But how does she cope when she finds herself without electricity, since no powerline runs to her outpost?
She's got to look to solar power or wind if she's to have anything electrical, like a refrigerator. What a worldview test! And that fridge won't be like the AC one back home, but DC. She'll have to get it from some place other than Neiman Marcus, too, unfamiliar outfitters run by ex-hippies and survivalists. Not the optimum company for tea time.
Books may help her adapt, but in the end she's got to find a deeper resource she can trust. Her solutions may not be pretty, but she's learning to trust the wisdom of the frontier. What gets her through looks quite jury-rigged compared with the off-the-shelf solutions of the big city.
Decisions aren't made by committee, but by tough-minded leaders who take charge, leaders forged in the the crucible of the wild frontier. She learns to trust them and make their wisdom her own. Eventually, the people she left behind in the city won't recognize her, and may not even consider her one of their own anymore, simply because she's been tried by a different kind of fire. Jeans and boots replace pearls and Prada. Compassion reigns in her heart because she now understands that people on the frontier need each other more than the self-directed individuals of the city.
And most of all, she understands that the frontier kicked out all her supports. Who was there to catch her? Jesus Christ. He understands the frontier because He created it. He says this about the city folk:
For you say, I am rich, I have prospered, and I need nothing, not realizing that you are wretched, pitiable, poor, blind, and naked.
—Revelation 3:17
Most city-dwellers don't understand that Jesus embodies the frontier. His Spirit blows over the plains in unpredicaable ways, but always according to His pleasure. To know the Spirit is to capture the essence of the frontier, of dependence on the goodness of God, and not on means of control. The city-dweller has money to fall back on, so he or she doesn't need anyone else, especially not some free Spirit.
And so it is in our churches. We're still in our penthouses, but the reality of Christ's will perpetually dwells on the frontier. We may look down on the messy frontiersmen, may consider them rubes for living life by the frontier Spirit. We'll judge those country folk by our city-slicker standards and find them all wanting.
Judgment Day will reveal the truth, though.
It's time for us to ask the Lord to make us frontiersmen and frontierswomen, tough people who rely on the Spirit more than we now do. We need to put down luxury and take up gritty work. Our baby-soft hands need some toughening. Real life is difficult, and it's time we got acquainted with it.
We'll find it out on the frontier. And we'll find Him there, too.