We visited the in-laws this last weekend. One of my father-in-law's rituals is to play hymns on the piano before we head off for church. When I came downstairs after getting dressed, I heard the following hymn:
I come to the garden alone
While the dew is still on the roses
And the voice I hear falling on my ear
The Son of God discloses.
And He walks with me, and He talks with me,
And He tells me I am His own;
And the joy we share as we tarry there,
None other has ever known.
He speaks, and the sound of His voice,
Is so sweet the birds hush their singing,
And the melody that He gave to me
Within my heart is ringing.
I'd stay in the garden with Him
Though the night around me be falling,
But He bids me go; through the voice of woe
His voice to me is calling.
— "In the Garden" by C. Austin Miles, 1913
I admit that I always liked that hymn, but as I sat there last Sunday morning, it bothered me. A lot.
Forty-five minutes later we were singing "Fairest Lord Jesus" in my in-law's church. And then we sang a modern worship song speaking of how beautiful Jesus is.
In the last couple months, I've had conversations with guys who confessed that God seems to answer the prayers of their wives more than He does their own. One went so far as to tell me that whenever he received a positive answer to prayer, it disappointed him to find out his wife had been praying for the same thing. He attributed the success in receiving that answer to prayer more to his wife's prayer life than his own. In those times when his prayers didn't line up with his wife's, nothing seemed to happen.
It makes me wonder if Christian men today feel like second-class citizens of heaven.
Consider the image of Jesus we proffer in our churches today. He becomes a sort of benevolent, winsome character who is handsome (in a glossy, Western sort of way), considerate of others, good with children, intelligent, deeply spiritual, and a hard worker. In our churches, we sing about how much we love Him, talk about His beauty, go on about how we want to be near Him, and so on. In short, He sounds like the perfect husband.
I suppose that a few men out there are crushed by that notion, especially since nearly everything in our culture points out that men are stupid boors who think with their genitalia, love sports mindlessly, and mess up everything they touch. Then there's Jesus who is none of those things. Is it any reason that the little woman loves Jesus? Or that it's hard for men to identify with the Lord?
I think this is why I'm hearing that men feel their wives have got it all over them when it comes to being spiritual. I think it explains the disconnect that some Christian men experience when it comes to having a meaningful relationship with Christ. They look around and see that what they are told they must experience seems a bit off. They can see how their wives can go on and on about how beautiful Jesus is,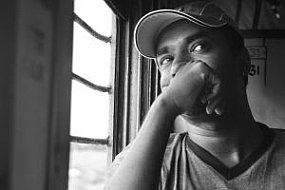 but to men, the contemporary image of Christ they are told they must assent to, and the way they are to live out their faith feels at times, well…gay.
There, I said it.
One of the problems of our age is that none of this is truly news. The modern Christian men's movement has been trying desperately for a couple decades to counteract what they see as the emasculation of the Church, and I believe they have a legitimate cause there. However, I think that books like Wild at Heart by John Eldridge, the "Bible" of the Christian men's movement, blows the solution to the problem by encouraging men to find answers by hunting bear with a pointy stick. That attempts to counteract the image of a weepy-eyed Jesus by telling men they need to be testosterone-laden, elk-choking scalliwags. We simply trade one graven image for another.
I don't believe that the problem is with us men as much as it is with the image of Jesus we project today in our churches. Attempting to pump ourselves up will yield no change unless we re-examine who Jesus is.
In light of what I was thinking about that morning before church as my father-in-law played piano, the sermon proved fortuitous. The pastor preached on Jesus' question, "Who do men say that I am?" I think that question sums it up for most men. Who is Jesus? And are we exalting a graven image of Him that drives men away from the Church?
What do you think? If you agree that we've distorted the image of Christ to make Him overly appealing to women at the expense of men, how would you rescue that image?
See also: