I hear some folks decrying an entertaining worship service. If "entertaining" means "filled with distracting cultural hoopla that keeps the masses opiated," then I agree that's a bad trend. Some of those decriers will maintain that a solemn service is the way to go, even if solemn becomes somnolent at times.
I hear other folks saying that people are bored in church, a major reason why men can't engage traditional church meetings anymore. Those same people may very well be the ones seeking more cultural hoopla. Obviously, that's not a popular response to those on the "entertainment in church is bad" bandwagon.
I hear the wrangling between those two sides and I wonder how they can possibly miss the third way.
If a church is compelled to be entertaining, then something is missing.
If a church is satisfied with being boring more often than not, then something is missing.
Or should I say someone.
If we have churches that feel compelled to be entertaining or are satisfied with being boring, then one thing is true: The Spirit has left the building.
The problem here is that churches on both sides of the argument don't wish to face that reality because it only shows their spiritual poverty. And we all know to admit God's not showing up on Sundays in what is supposed to be the gathering of His Children makes for bad marketing.
What's most tragic about our willingness to make do without the profound presence of the Spirit is that we make peace with the emptiness. When I say that's a little psycho, I mean the movie. Norman Bates kept believing mom was still alive and kicking even though her corpse moldered in the basement. Needless to say, no outsider thought much of Norman's sanity.
It's to our shame that enormous numbers of Christians have never attended a church meeting where the Spirit showed up in palpable presence so that the entire congregation knew it.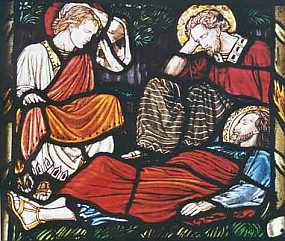 That's a tragedy of untold sorrow. Yet it's what too many Christians face each Sunday in either their dead churches or their dog-and-pony-show excuses for a live one.
So people settle. And they do it with profound gusto. They'll tell themselves this is the best it will ever be and embrace the lie simply because they've never experienced the Spirit dwelling in power.
Are we spiritually hungry? Or are we status quo? Are we afraid? Are we embarrassed? What explains our settling for what too many of us settle for?
Repent. Then gather your church together and don't stop seeking the Lord until He sends His Spirit in power.
Because a church that doesn't regularly experience that kind of divine presence of the Lord in their meetings in a palpable, unmistakable way isn't a church at all.
And yes, I mean that.
And when they had prayed, the place in which they were gathered together was shaken, and they were all filled with the Holy Spirit and continued to speak the word of God with boldness.
—Acts 4:31
More: