So then, as we have opportunity, let us do good to everyone, and especially to those who are of the household of faith. See with what large letters I am writing to you with my own hand.
—Galatians 6:10-11
Regular readers of Cerulean Sanctum know that I write pointed posts about the need for Christians to help each other, especially when it comes to finding a good job.
Tim Challies put out a call for a job for his brother, Andrew, who has a mild form of autism called Asperger's Syndrome. Tim's brother lives in the Chattanooga, TN, area and would like to find clerical or data entry positions. Details can be found at Challies.com.
I've never been one to understand the odd way we American Christians view the unemployed. I remember sharing with a group of men at a wealthy church my wife and I were visiting (with hopes of possibly joining) that I had lost my job and was looking for work. They stared me over for a few moments, then returned to chit-chatting, literally turning their backs on me as if I were no longer there. I will never forget that horrid sensation that I had suddenly become a non-entity to them.
Many people can tell these kinds of awful stories. In truth, those stories should never occur within the Body of Christ. When the Lord says that we are to love Him and love our neighbor as ourselves, there can be no truer love for a brother or sister in Christ than to help be their network when they are looking for a job.
After Pentecost, the first thing the nascent Church did was ensure that no one among them lacked for basic physical needs. As far as I see it, no need could be more basic than to have a decent job.
Which is why I'm continually perplexed at the American Church's slighting of the unemployed. I've written many times here that we're under this cursed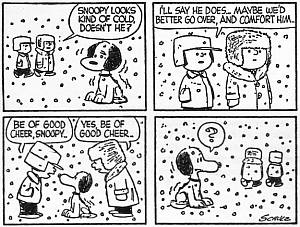 bootstrapping nonsense that says that "God helps those who help themselves." That's the antithesis of the communion of saints, though.
If anything, the continued presence of the unemployed within our congregations is a damning statement about our inability to walk beside our brethren in their time of need. One brother (who recently did find work after nearly a year of searching) asked me for advice on his search. I advised him to ask the church leadership for permission to stand up before the congregation and discuss his need for work. He told me that if he asked for employment in front of his congregation, dozens of others would clamor to make the same request. To which I said, "So? Isn't that supposed to be the way the Body functions?"
Well, isn't it?
I'm concerned about the economic state of North America. Disparities between the rich and poor are growing, with the middle class sliding down the pay scale. I believe we're on shaky ground, shakier as the subprime mortgage fiasco ripples out to touch all parts of our economy. Signs are there for another recession. I also believe we're in a boom and bust cycle that will have longer busts and shorter booms as time goes on. You think the last recession was bad? Just wait.
If we're not there for each other, working hard to meet the job needs of our fellow believers (especially those in our local congregations), aren't we rejecting one of God's major reasons for the Church to exist?
Honestly, I get really tired of witnessing the following:
If a brother or sister is poorly clothed and lacking in daily food, and one of you says to them, "Go in peace, be warmed and filled," without giving them the things needed for the body, what good is that?
—James 2:15-16
Indeed, what good is that?
I get labeled as a dour guy sometimes. My problem as I see it is that I am hopeful that we'll live up to our high calling. That we seem to have so little care to live up to that calling makes me sad. Yes, it's a high calling, but it's not an impossible one. Yet we act as if someone's unemployment is as unmanageable as a tornado.
How big is your God? Mine's pretty blasted enormous! And that universe-eclipsing Lord we serve is looking for people who believe He can rip up the mountains and toss them into the sea! A job? How hard is that to get?
Well, it may be very hard if no one cares to use the contacts and networks we've all built to guide someone to gainful employment. We can bury that network in the ground. We can say that we're just too busy to get involved. But if that's our attitude, then we shouldn't be surprised when the Lord comes back and isn't totally pleased with how we've managed the resources He gave us.
We all know we need to improve our community in our churches. Making sure we help people find work is one of the keys to that better community. Because if we in our plenty won't actively labor to help those searching for jobs, who will help us when we're the ones laid off?