Any military commander worth his salad will tell you the key to battle is to neutralize threats. Whether  by outright attack, supply line disruption, or distracting threats so they turn their attention elsewhere, systematically taking out each threatening unit wins the war.
Last time I checked, we Christians were at war. Do we realize how ardently the Devil and his minions hate us? To them, we are the enemy as much as they are ours. Just as we have been given weapons of war to wage battle against the chthonic, so the legions of hell marshal their power against us. And their tactic is the classic one: neutralize threats.
Here's the worst thing that anyone can say about you or me as Christians: "You're no threat to the Devil."
Sadly, I believe that large swaths of the American Church are just that. The Enemy distracts us with consumerism, entertainment, fads (even church-related ones), and an all-consuming loathing for anything that even remotely borders on boring. We know the entire storyline behind Lost, can name every contestant on the last American Idol, can't wait to plop down a small fortune on the next iteration of Xbox or Playstation, spend more on movie theater tickets or DVDs than we drop in the offering plate, and generally run willy-nilly after umpteen thousand things that neutralize our threat on the grand cosmic battlefield.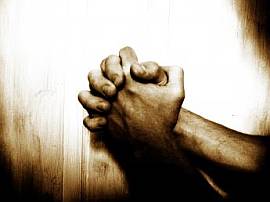 Without even breaking a sulfurous sweat, the dark principalities and powers have rendered millions of American Christians fat, lazy, double-minded, and utterly worthless for battle.
But not everyone.
In writing this, I realize that some of the most encouraging words we can give to a fellow believer may be difficult to receive. They may be true in the utmost and a genuine balm to the soul, but that doesn't make them any less hard.
This post is an encouragement to those who are still a threat, but it's a realistic encouragement, words of hope that may sound like words of despair at first, but only to those who lack perseverance.
Some of us still threaten hell. Here's an easy check to tell if we do: We're being opposed by the Enemy at every turn.
If our lives are peaches and cream most of the time, if we're poster children for the American Dream, then we're not a threat. The demonic doesn't take us seriously, because if it did we'd be feeling and seeing the attacks.
Two Scriptures:
Then some of the itinerant Jewish exorcists undertook to invoke the name of the Lord Jesus over those who had evil spirits, saying, "I adjure you by the Jesus whom Paul proclaims." Seven sons of a Jewish high priest named Sceva were doing this. But the evil spirit answered them, "Jesus I know, and Paul I recognize, but who are you?" And the man in whom was the evil spirit leaped on them, mastered all of them and overpowered them, so that they fled out of that house naked and wounded.
—Acts 19:13-16

Are they servants of Christ? I am a better one—I am talking like a madman—with far greater labors, far more imprisonments, with countless beatings, and often near death. Five times I received at the hands of the Jews the forty lashes less one. Three times I was beaten with rods. Once I was stoned. Three times I was shipwrecked; a night and a day I was adrift at sea; on frequent journeys, in danger from rivers, danger from robbers, danger from my own people, danger from Gentiles, danger in the city, danger in the wilderness, danger at sea, danger from false brothers; in toil and hardship, through many a sleepless night, in hunger and thirst, often without food, in cold and exposure. And, apart from other things, there is the daily pressure on me of my anxiety for all the churches.
—2 Corinthians 11:23-28
When you're a threat to the devils, they know your name. They knew Paul's. He later regales us in 2nd Corinthians 11 with a staggering list of ways in which those evil forces dealt with his threat to their hellish mission.
Now who here volunteers to share the trials of Paul?
It's a hard word of encouragement, isn't it?
I can tell you that the closer you are to the heart of the Lord in the work you're doing for the Kingdom, the more brutal the battle. Things will go wrong that you never expected because the Enemy wants nothing more than to neutralize your threat.
In the grand cosmic battle, evil attempts to take out the Christians it knows by name by attacking what is dearest to them: their families. The Enemy loves to go after children and spouses. It's the hellfire way to napalm the biggest threats.
With children, the Enemy hurts physically or emotionally. Debilitating sickness or injury in a child will often be all it takes to remove a Christian parent who is a genuine threat. Death of a child, too. As a child gets older, rebellion works just as well. Nothing breaks a parent more than to watch a child go down in flames.
With spouses, the Enemy's first line of attack is dissension. Turning a spouse against the person who is a threat wounds deeply, often because the spouse has been the only source of consistent support outside of the Lord. The height of wounding would be discovering a spouse's affair. Fray that most precious bond and many threats to hell will wilt. The Enemy will also resort to physically or mentally wounding a spouse if the marriage is a strong one that would not ordinarily succumb to dissension.
Lastly, the Enemy will assault the threat directly. I believe this is often the last resort because indirect threats can be more effective. The most common lines of attack come against the threat's livelihood, reputation, and/or physical and emotional health. The Enemy may also try to kill the most powerful Christians simply to curtail that threat's continued assaults.
We see these attacks playing out in the life of Job. This righteous man buried his children, witnessed his livelihood stolen, had his wife turn against him ("Curse God and die!"), and suffered gruesome physical torment. The unmarried Paul, lacking any indirect chinks in his armor, instead weathered relentless assaults against his person and reputation.
If you are not in obvious sin and are being attacked on every side, the devils know your name. Many of the attacks I outlined above may be your daily bread. You are well acquainted with grief.
Don't even consider giving up. Instead, I tell you, rejoice! For the devils know your name! That means more than you can imagine in a world where most people receive little more than a "Who are you?" brush-off from the forces of hell.
You see, the Devil has a list. Akin to the FBI's, it's filled with the names of his Most Wanted. And it's no coincidence that the names on the Devil's list are also found in the Lamb's Book of Life.