When I was a teen, I was really into Aerosmith. I had all their albums. Nearly played the grooves off the LPs.
My father was an opera and classical music buff. His assessment of Aerosmith: "The music you kids listen to is complete crap."
The irony of this is that I eclipsed my father in rank geezerdom by a decade and a half. For by the time I was a mere 30-years old, I was already mouthing his same words whenever I heard the latest rap artist coming out of the boombox of some 16-year old with his pants lurking at the outer limits of his glutes.
What a fogey, eh?
Now despite 25 years in the tech field, I've got to say that I simply do not understand some aspects of the popular social/relational technology of our time.
For instance, to this day, I have never once seen the need to send an instant message via AIM or its clones. I see no reason to text anyone by cell phone (phone being the defining usage).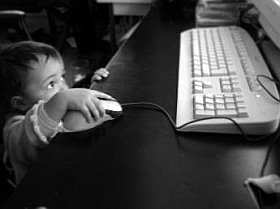 The appeal of MySpace, Facebook, Orkut, Virb, and most of the other social networking sites is lost on me (though I can see some purpose in the business-oriented site LinkedIn). And I am utterly baffled by Twitter. Utterly.
Because I was being screamed at by every blogging guru to get a Twitter account, I did. As of today, I have yet to post anything through Twitter. Frankly, I still don't get it. Why is anyone interested in knowing that I just took the trash to the curb or that I gave the dog a bath? In fact, if I were a criminal, Twitter and its mimics would be a gold mine. I mean, when some Twit tells the whole world, "Hey, I'm leaving tomorrow to go reef diving in Australia for the next month," isn't that akin to "Burglars, please break into my vacant house and rob me blind"?
A bunch of friends have all decided to join Facebook recently. I'm not on Facebook because I hear they sell every last bit of demographic info that you post there—like I need more spam or hopeful authors of books on dealing with incontinence (from a Christian perspective, of course), who beg, "Review my book on your blog and I'll let you keep it."
I guess some of you might wonder what the whole point of this blog is then, but the blog was never intended to be about me. It really is supposed to be about us and how we can be a better Church.
One of those new-to-Facebook friends sent me a screen capture of all the accumulated friends who posted on his Facebook page what they were doing or thinking (Ã  la Twitter, sort of negating the point of Twitter, at least as I see it). The more I looked at those comments, the more I thought that we have become a generation of people who are dying for someone to notice that we exist. And we've taken that into the most impersonal venue possible, the Internet.
I find that reality soul-crushingly sad.
Several years ago, I read a book by John Locke called Why We Don't Talk to Each Other Anymore that was prescient in its arguments that we are becoming a relationally-disconnected society through the use of technology. Locke's arguments were astonishingly accurate for 1999, a date that preceded all the relational techno-ware by which we connect to others today.
Locke notes the loss of nonverbals such as body language, which scientists have found make up the large majority of communication signals we send through social interaction. The result is a generation of people who mangle interpersonal, face-to-face communication because they are too inexperienced in reading other people's nonverbal communication. Worse, they fail to develop their own nonverbals as a result, which means that even people who are skilled at this type of communication find them to be perpetual blank slates.
In some ways, we are becoming a society of autistics, lacking the basic communications skills that define us as human.
Yet the cry of the human heart to be known and to know others remains. Our problem is that the means by which we choose to do this are fundamentally impoverished. The friend who sent me the screenshot of his Facebook site  was someone I'd seen face-to-face just hours previously. The amount of interpersonal information that we shared in the three hours we were together most likely dwarfed the sum total of emails we have sent each other in the twenty years we've been friends. How many people, though, find the majority of their relational cachet bundled up in deficient resources like Twitter, AIM, or even Second Life? I suspect the numbers are larger than we might believe.
I mentioned Joe Myers' book The Search to Belong a few weeks ago and the startling statement he makes that it is too much to ask of people to come to our homes and visit for an evening. Too many people find this to be a complete nervous freak out, evidently. Is it any wonder? They've lived their entire relational life texting to "friends" or Twittering their lives away. How then would you relate face-to-face with flesh-and-blood people in their personal space?
Still, that nagging desire to be noticed by someone, anyone, grips people. When you're reduced to a jagged avatar on an LCD screen with a couple burned-out pixels, life seems a little less meaningful.
Sadly, most people addicted to this stuff can't see how they're losing out. They keep screaming to people digitally to take notice, yet all the while there's people right next to them they're ignoring. (For the irony of this, consider the interactions of humans in the movie Wall-E.)
I've got to think the Church in the West MUST begin addressing this problem now or we may be too late. We're inviting people into a relationship with God, but if they cannot relate to other people normally, how will they deal with the God of the universe? He's never Twittered, as far as I know.
That dire call for attention becomes a roar when billions of people cry out at once. Are we listening? Are we going out to the byways and calling in the ones huddled under their bedcovers trying to get in one last texting from the Blackberry? Or are we, too, trying to type out "NE1 THER?"
***
UPDATE: The friend mentioned in the post sent me a  link to a New York Times article that completely rebuts everything in my post. I didn't know about the article when I wrote this, but I disagree with many of its points. I find it odd that the fact that face-to-face time is suffering (as I said) is mostly glossed over and explained away. I'll let you all decide the merits of the article, "I'm So Totally, Digitally Close to You", and its comments afterward. BTW, the same friend informs me that hyperextroverts like me seem to be the only people who are put off by all these social networking sites. Evidently, introverts are just eating this up because it allows them to hop in and out of the networks so as to keep a toe in the social networking pond without having to dive in and hold one's breath underwater for hours.