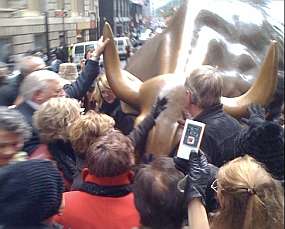 The image is of an event held this past Wednesday calling Christians to pray for the world's economies.
A quote unrelated to the event::
Conversion in the U.S. seems to mean we've exchanged some of our shopping at Wal-Mart, Blockbuster, and Borders for the Christian bookstore down the street. We've taken our lack of purchasing control to God's store, where we buy our office supplies in Jesus' name.

—Mark Riddle
I'll let you draw all the conclusions you wish.