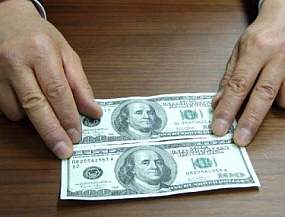 As I noted a few posts ago, my church is going through The Truth Project, a series from Focus on the Family that outlines a Christian worldview. I have enjoyed the series so far, and I think it is excellent. But I have a problem with the third lesson, which asks the question, "What is Man?"
The lesson contains an excellent outline of the case of biblical anthropology against an anthropological theory that many would immediately recognize as that of atheism or secularism. You know, the favorite bogeyman of those enmeshed in the culture wars.
My thoughts? I absolutely agree that the secularized worldview portrayed in the lesson (as epitomized by Maslow's hierarchy of needs, with its pinnacle of self-actualization) is definitely a problem. What troubles me is that I don't feel that a secular worldview is the threat against genuine Christianity that the lesson makes of it. Atheism? Secularism? That's so…well, 1990.
Fact is, if you look around the world, people are not rushing to atheism and secularism. Sure, in some places they're buying the books, but not in the majority of the world. With the exception of small pockets of atheism and secularism in Western nations, the actual trend is toward a more progressive spirituality, a spirituality that may not—at least from undiscerning human eyes—appear to enthrone self, as does secularism. In fact, some people might even call it a new fundamentalism, a return to what are ultimately superstitious or flawed religious beliefs. Ask an African what is sweeping Africa, and he'll not reply atheism, but Islam.
Though atheists and dim-bulb "brights" claim antisupernaturalism is on the rise, that is anything but the case. Witness the mass euphoria over the so-called Lakeland revival. The supposed supernatural displays on center stage had people transfixed. Rational people who never would have entertained supernaturalism otherwise flocked to Florida, hoping for a miracle. Many spent thousands of dollars to fly in from around the globe to bask in the overhyped glow of the Bentley miracle show. People who believe in nothing outside the material world don't do that.
Remember this:
For then there will be great tribulation, such as has not been from the beginning of the world until now, no, and never will be. And if those days had not been cut short, no human being would be saved. But for the sake of the elect those days will be cut short. Then if anyone says to you, 'Look, here is the Christ!' or 'There he is!' do not believe it. For false christs and false prophets will arise and perform great signs and wonders, so as to lead astray, if possible, even the elect. See, I have told you beforehand. So, if they say to you, 'Look, he is in the wilderness,' do not go out. If they say, 'Look, he is in the inner rooms,' do not believe it.
—Matthew 24:21-26
Does Jesus Himself predict that secularism will reign at the end? Hardly. If anything, it will be a time of people desperately seeking spiritual nourishment, seekers who latch onto one magician after another.
Jesus' warning should shake us all because the genuine lie isn't going to be as obvious as secularism or atheism. That's bush-league deception. That will only fool the completely gullible.
What should sober us is that the coming lie will look so much like truth that even the elect will be perplexed by it. Brother doesn't hand over brother because of secularism, but because of fundamentalistic religious beliefs that sound exhilirating yet are at odds with genuine Christianity. It's the form of godliness we shoud be alarmed by, not the form of godlessness.
Lee Grady, the editor of Charisma magazine, claims a pastor he knows insists that many charismatics will follow the antichrist because of their devotion to supernatural signs. I think that pastor nails it. The deception that is coming is less obvious. It's subtle. It's sorta-Christianity, with a veneer of powerful wonders. It will have many of the trappings of what Western Christians have come to accept as Christianity but will actually be a complete lie. In some ways, we Western Christians have been test subjects. We're just too drowsy to see it.
To the man buried in an avalanche, the entire world is snow. But the man standing at the top of the mountain knows better. With the world moving in a more religious direction, not a lesser one, the ultimate snowjob may be just around the corner.