Yeah, I bungled the beginning of the old aphorism.
It's supposed to read like this:
He's so heavenly minded, he's no earthly good.
I think it would be interesting to meet someone who embodies that aphorism—at least the first half of it.
If you're a reader of Christian blogs, tweets, and Facebook postings, then you are well aware of the great theological debate that is occupying most of our attention: Kindle or iPad.
It's an important debate, not because of which tech gizmo ultimately triumphs but because we seem to be more enamored of tech devices than we are of fulfilling the Great Commission.
What greater squandering of the Internet can there be than failing to use it to stoke conversation about fixing the Church, then using that conversation to develop a meaningful, countercultural vision for this Christian life?
Seriously, aren't we being assaulted on all sides? Isn't the age we're in increasingly squeezing the life and focus out of the Church? Haven't we become a nation of Christians more interested in raising up politicians than raising up Jesus? Aren't we more concerned about becoming poor than meeting the needs of the poor? Yet at the same time, don't we go spending whatever limited money we think we may have on junk that doesn't matter?
I recently read The Survivor's Club, which details how people should and should not act when faced with dire, dangerous situations.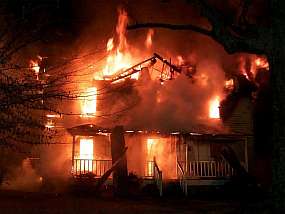 The author examined many disasters, large and small, and noted a major failing among those who perished. Many people who should have survived the disaster did not because they treated the situation as if it were business as usual. In other words, their sense of danger failed to kick in. They didn't process what was happening to them as if it were extraordinary. So they fell back into patterns of normal living, blind to the depth of the threat that faced them.
Here's the kicker: That blindness is the majority reaction. Here's the kicker to the kicker: ANYONE is capable of experiencing that blindness, even the trained.
Even the trained.
Folks, we're supposed to be the trained. Have we been blinded?
I want to know where the serious people are, don't you? Because when the house is on fire, it's not enough to be trained; we have to be serious. And debating the Kindle vs. iPad isn't serious. It's just another in a long line of distractions that is increasingly making us Western Christians so earthly minded that we're no heavenly good.