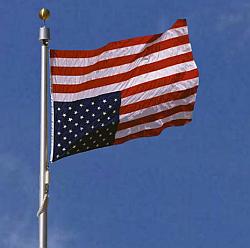 When you write a published title to anything and call it "Why America Is No Longer Great," you must establish a baseline for greatness in a nation. Most Americans today have in their minds a vague concept of what greatness looks like. As someone nearly a half century old, the image I envision mirrors that of the old Ronald Reagan "Morning in America" ad, considered by many to be the finest political ad ever created—though I admit that recalling ads is perhaps a sign of the greater problem.
Fact is, there are no inherently great nations. A nation is nothing more than a collection of people and their work and ideas.  So it's the people who must be of some Olympian caliber if we are to test the definitions and say that a nation is great.
But then, defining a nation as great by claiming its people must be is something of a bait and switch. People, in and of themselves, are not great. No inherent greatness exists in fallen men and women.
Fact #2: Only God is great. To the extent that people reflect God's greatness, will they be great, and subsequently their nation.
All greatness comes from God. Period.
This past week, we watched a major political party suffer a seizure over the omission and re-addition of a lone reference to God in the party platform. In addition, many in that party could not see fit to acknowledge the spiritual home of two major religions. That party's whitewashed faith statement reads like something espousing liberal use of a rabbit's foot, four-leaf-clover, and upright horseshoe.
The opposing party, on the other hand, refers to God often. That said, it's hard to escape the feeling that the party does so in the same manner that a pimply-faced teen guy drops mention that he and the high school's much-admired football QB are chums, the trolling for chicks barely contained and obvious. One thinks that for all the talk of faith by that other party, a quick drain of the trust fund would reduce that faith to zero.
Changed in 1956 from E Pluribus Unum, the official motto of the United States of America is In God We Trust. You wouldn't know it from the character of Americans today though. Sure, we talk a great deal about God, but the nature of Americans as practicing God-fearers that so impressed visiting Europeans in the early 19th century is largely vapor today. Instead, we seem to be obsessed with a thousand petty ideals that have as much to do with God as ichthyology has to do with cyclery. I would suspect that a contemporary visit from de Tocqueville would elicit an astonished "What the hell happened?"—though in the French equivalent, of course.
Maybe hell IS what happened.
The truth is simple: Because we Americans are no longer a God-fearing people, we don't reflect God's greatness as we should. Therefore, we, as a people, are no longer great. And neither is our nation.
Do any great nations exist? By the definition I offer, probably not. I say probably because the concentration of truly God-fearing people on this planet seems to be shifting to the East. One could make a case for South Korea. Oddly, at least to most Americans, China is emerging as a land of great faith, with its revival-fueled churches.
And yet, even in the nations of the East, one can see the rot that infected the heart of America taking root. Materialism and self-centeredness are growing at a frightening rate, as America foists its fallen ideals on other parts of the world.
Because we once understood that God alone is great, Americans once reflected greatness. And because the people mirrored greatness, so did America the Nation.
I wish I could say that America was still great. Perhaps our nation can be again. But that will happen only if We The People turn, with all humility, back to God.