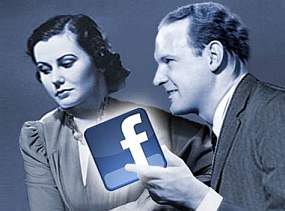 Community has been a buzzword in contemporary Church circles for the last dozen years, but I have yet to hear of a local church that does it well. Too many churches are lucky if they can find a way to get together once a week, much less three or four. I don't hear of enough churches where the church members meet in each other's homes regularly, outside of  the occasional small group.
In fact, my conversations lately have centered around how more and more of us are realizing our primary means of fellowship with other Christians outside of Sunday mornings is through Facebook. Which is why a recent discussion troubled me.
A friend mentioned that she stopped accepting Facebook Friend requests from others at her church. Evidently, she shared something with her carefully selected group of friends and it got back to an elder at her church with whom she was not Facebook friends yet. (I suspect another of her Facebook friends passed it along.) That elder then told the pastor of the church, and my friend ended up getting a pointed little "chat of correction" from the pastor the following Sunday morning.
The upshot is she stopped accepting Facebook Friend requests from everyone at her church.
I could identify. Something similar happened to me. While I haven't ignored everyone in that circle of fellowship, I'm much more selective of Facebook friend requests as a result. Truthfully, that disappoints me greatly.
Only a fool would think the 21st century Church is immune to gossip. Still, that said, by their nature social networks tend to foster gossip, and I suspect some of you reading this who have been on Facebook for a couple years have been burned by something you wrote in an update. If fellow Christians precipitated the scorching, especially those at your own church, it hurts all the more. No one wants to share an update that they enjoyed a certain book and end up having to defend themselves on Sunday because someone at church found out through the gossip grapevine and took issue with their choice of reading material.
Given how much of our sense of social connection now exists through online means, I wonder if social networks such as Facebook are ultimately damaging our shot at real community. It's something I've pondered for years, and when I get a friend request from someone I'll chat with in church on Sunday but with whom I'm leery of sharing my Facebook updates outside of church, it makes me wonder if something vital is going unaddressed in our Christian community.
I truly believe a more fully realized community within the Body of Christ exists, but we certainly are not nurturing it as well as we should. And Facebook may not be helping, especially when Facebook friends talk about us in inappropriate ways and to the "wrong" people.
What do you think?