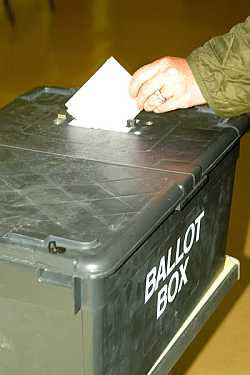 We have another American election coming soon. If you are a Christian, you are probably well aware of the "this is the most important election in the history of our country" mantra of fear that gets trotted out by various Christian groups every election cycle. We will certainly hear a verse shared most often today in conjunction with politics, 2nd Chronicles 7:14. We will hear about Judeo-Christian values and saving them from whichever evil political party is deemed most diabolical at this time.
"We have to preserve our way of life! If we don't, what will happen to our nation?"
There's a problem with that line of thinking though: It's the same belief and chant that resulted in Jesus' crucifixion. The Pharisees were the "values voters" of their day.
The problem with voting values is that values exist in a vacuum. Whose values? Which values? In Christian circles, we hear typically that stopping abortion, halting same-sex marriage, and safeguarding religious freedom are the top three. I will not dispute that those are valuable and worthwhile issues to address. However, the Bible speaks far more often and more boldly about economic justice, yet evangelical Christians balk at talking about economic justice because fixing that problem would probably disrupt our personal little kingdoms. Love for the "alien" and "sojourner" is also mentioned repeatedly in the Scriptures, but that's not a value most of us consider at the voting booth.
Values change too. Remember that ridding our country of "demon alcohol" was once the most important value the American Church held dear.
Here's the essence of this post…
These are the two most important questions of life:
Who is God?
How can He be known?
As Christians, the Bible is our book, and it exists to answer those two questions. We as Christians are to embody the answers to those two questions. And as the embodiment of those answers, we are to align everything in our lives to presenting those answers always and in everything we think, say, and do. Our lives are intended from the second we are justified by faith in Christ to be the living response to the two most important questions of life.
Think about that. Then think how we are to live as a result.
Politics is a nasty business. In a democratic republic, we Americans are given some say in our government. For those of us Americans who are Christians, our participation in that government must reflect the answers to the two questions. We are not allowed to answer falsely or to hedge our bets. The answers to the questions cannot be compromised because what is at stake is the truth about the character of God and His revelation.
Nothing the Christian does should question the character of God because no "value" matters more. All answers in life proceed from who God is. Our response to any predicament or issue always must come from who God is is and how He can be known.
This is how we live. And this should be how we vote.
I wrote that the Pharisees were "values voters." Recall how they were unable to properly answer the question of who God is and how He can be known. This is the failure of values voting. It can't work back from the "answers" depicted by the "values vote" and determine the truth of who God is and how He can be known. For this reason, Christians can't vote based on values.
But people try. And this is how we end up with the political mess we find ourselves in.
Yet if we are to move beyond ever-changing values voting then we must always vote with the answers to the two essential questions in mind. They must inform everything we think, say, and do.
How then can we support any politician who distorts who God is and how He can be known?
How then can we support any politician who answers the two questions with lies in both word and practice?
Our task as believers is to reflect the answers of who God is and how He can be known in every aspect of life, including voting.  If we don't do this, then we send a confused, broken, and destructive set of answers to a world dying for truth.
God has not given us a spirit of fear, has He? And yet we vote out of fear, not out of answering the two questions. We are fearful over the loss of values, but never over the loss of proper answers to the two questions. This is grossly wrong.
As Christians, we are to vote for those people who can answer the two questions properly in both word and practice. Anything else is not of faith and not of truth. God puts few burdens on us, but properly dealing with the two questions is one of those "burdens."
But here's the thing: God is in control of the outcome. He asks us to boldly uphold the answers to the two question and then trust Him to handle whatever the outcome of doing so will be. We should never fear to answer those two question boldly and without regrets.
What if this means that in answering the two questions of life boldly and without regrets we vote for a political candidate who answers the two questions correctly but who will certainly lose the election? Well, that may be what is asked of us by God, because answering the two questions properly is what we are about—always.
Do we truly trust God for election outcomes? Does He not say that He is the one who raises up and tears down a nation's leaders? Do we believe that He knows what is best? If we do the right thing and vote for upholders of the proper answers to the two questions, and those candidates lose, have we not done what God has asked of us? If the "wrong" candidate makes it into office, are we to judge God because He asked of us one crucial thing and now we have regrets over His sovereignty? Are we that faithless?
We Christians say we want things to change in our country. Voting values, for all intents and purposes, has been a miserable failure at changing anything. It was always doomed though. Unless we vote according to the answers to "Who is God?" and "How can He be known?"we will never change anything.