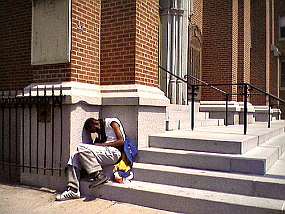 We're in difficult days, and I think they will get more difficult.
In times like these, recalling God's promises and leaning on His character and His abundance becomes critical. All of us are needy, and that will not change until the Lord returns.
Yesterday, I got in a bit of a back and forth elsewhere over the issue of God's promises and fulfillment. God's promises to us are true, BUT it seems to me that all are based on conditions that demand something of us. The usual conditions are faithfulness and holiness.
A perfect example:
If my people who are called by my name humble themselves, and pray and seek my face and turn from their wicked ways, then I will hear from heaven and will forgive their sin and heal their land.
—2 Chronicles 7:14 ESV
The promise is that God will forgive sins and heal the land. The condition is that people embrace humility, prayer, and seeking God.
That kind of promise and condition duo runs through all of Scripture.
What if the condition isn't quite as clear? Let's work back from promises to conditions.
Another famous verse:
Consider the lilies, how they grow: they neither toil nor spin, yet I tell you, even Solomon in all his glory was not arrayed like one of these. But if God so clothes the grass, which is alive in the field today, and tomorrow is thrown into the oven, how much more will he clothe you, O you of little faith! And do not seek what you are to eat and what you are to drink, nor be worried. For all the nations of the world seek after these things, and your Father knows that you need them. Instead, seek his kingdom, and these things will be added to you.
—Luke 12:27-31 ESV
We're not to worry about the things we need in life because God will supply them. We just have to seek His Kingdom. (OK, so that condition is open to interpretation at this point in the passage. Let's move on.)
Note the verses that immediately follow:
Sell your possessions, and give to the needy. Provide yourselves with moneybags that do not grow old, with a treasure in the heavens that does not fail, where no thief approaches and no moth destroys. For where your treasure is, there will your heart be also. "Stay dressed for action and keep your lamps burning, and be like men who are waiting for their master to come home from the wedding feast, so that they may open the door to him at once when he comes and knocks.
—Luke 12:33-36 ESV
That asks a lot more. If we are not to worry about the things we need from day to day, are we selling our possessions and giving them to the poor? Are we dressed and ready for action?
It gets even trickier when we examine how the Holy Spirit led the early Church to react to words like the ones above in a practical expression:
And all who believed were together and had all things in common. And they were selling their possessions and belongings and distributing the proceeds to all, as any had need. And day by day, attending the temple together and breaking bread in their homes, they received their food with glad and generous hearts, praising God and having favor with all the people. And the Lord added to their number day by day those who were being saved.
—Acts 2:44-47 ESV

There was not a needy person among them, for as many as were owners of lands or houses sold them and brought the proceeds of what was sold and laid it at the apostles' feet, and it was distributed to each as any had need.
—Acts 4:34-35 ESV
How were the basic needs of the young Church and its new believers met? Those same basic needs mentioned by Jesus in Luke 12:27-31?
The Church did something about the Lord's promise to ensure its practical fulfillment.
I'll add one more:
And my God will supply every need of yours according to his riches in glory in Christ Jesus.
—Philippians 4:19 ESV
A great promise and one many Christians rightfully hold onto.
But…what precedes that precious promise? Here are the verses we neglect to consider:
And you Philippians yourselves know that in the beginning of the gospel, when I left Macedonia, no church entered into partnership with me in giving and receiving, except you only. Even in Thessalonica you sent me help for my needs once and again. Not that I seek the gift, but I seek the fruit that increases to your credit. I have received full payment, and more. I am well supplied, having received from Epaphroditus the gifts you sent, a fragrant offering, a sacrifice acceptable and pleasing to God.
—Philippians 4:15-18 ESV
Paul's abundance that supplied his need came from a church people who were obedient to the Lord and gifted Paul with what he needed.
Time and again, a promise asks something of the Church.
For this reason, I don't believe it is reasonable to stand on promises that we as a Church are not willing to address in a practical way.
Paul writes earlier that the Gospel will not go out to the world unless we believers take it out. We cannot assume it will go out if we do not act.
If the Church does not assume some level of responsibility for enacting the promises of God through its faithfulness to Him and what He demands of us, I think it is misguided to hold onto those promises and think they will come to pass by some other means. It concerns me greatly that so many Christians think that these things will happen as if by magic, and they cling to that belief without giving any consideration as to what is asked of them to make that "magic" happen in their lives and the lives of others.
If the Church is not attuned to the need and is not working to meet it, should we assume that God will circumvent the system He established to meet that need apart from the Church?
You know what I think. What do you think? And why?