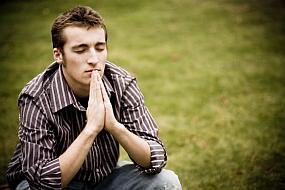 One of the great prayer traditions that may go missing in the frenzy of contemporary life is intercessory prayer in the moment.
When God brings someone to mind, stop. Take time to picture that person in your thoughts and recall the very best of his or her character and giftings. Thank God for that person.  Ask the Lord to equip and use that person fully. Then recall any of that person's struggles and lift them up to the Lord for resolution. And if God brings to your prayer any concern that appears to be sourced in Him and beyond what you might know in the natural about that person, pray it through.
One of my great concerns for the Body of Christ today is that we are becoming a loose, disjointed entity, with all the parts going on their merry way, losing connection to each other and subsequently to the Head.
Always lifting. Be that person who considers others at all times, and lift them up to the Lord.
No more simple exercise exists, yet it is one we Christians practice all too infrequently as the pressing needs of the day crowd out our concern for others.
Live differently. Pray differently.