I read about these churches with satellite campuses, where people watch a pastor by closed-circuit TV. I hear about these churches where the worship teams operate from iPads. I know of these churches where people fret over the brand of stage lights used or the sound systems.
And yet the cry of the human heart remains: "Show me Jesus."
And this is eternal life, that they know you the only true God, and Jesus Christ whom you have sent.
—John 17:3 ESV
All that we do in a church must go back to one reality: Knowing God and His Son. That's it.
Authenticity has become a buzzword in Christian circles, and it's almost humorous to witness the highly manipulative means we use to achieve authenticity. Yet the fact remains: We want a deep, abiding intimacy with God free of dross.
Our problem is that we keep erecting barriers to authenticity for the sake of creating that intimacy. I think this is because we no longer know what it takes to become intimate with God.
I'm convinced that many church leaders are out of touch, if what we see of a Sunday meeting is typical. The church meeting revolves around the mistaken assumption that people are self-feeding. I don't believe that should be assumed. I think a lot of people come to church hoping to achieve intimacy, but church leaders assume they already have it, leaders don't help usher people into it, and then folks go back home having not found what they came for. Then they are expected to build off a foundation they do not have.
Or worse. The church gives a foundation, but it's all built on a show, a performance. People came looking for Jesus, but they got Ringling Brothers instead.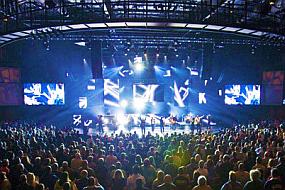 A life experience:
I know a pastor who is a solid man of God. He genuinely loves people and loves Jesus. One Sunday, he got up and said, "People keep asking me when we're going to go deeper, but this is as deep as it gets!" And he said it with a broad smile on his face.
A year later, that pastor and his staff were convening a whole-church meeting to repent for the dog and pony show the church had become.
You see, the people in the seats were starving to death. The leadership assumed people were feeding themselves properly, and they weren't. The people didn't know where to find spiritual food, and the leaders of the church weren't giving them any. Those people in the seats knew it too. They knew they were dying. They came to church looking for Jesus and instead got a pale imitation.
While this doesn't excuse the people in the seats for not being more self-sufficient in their own feeding, the problem remains. Every Sunday in America, people are going to church hoping to encounter Jesus, but they get something else instead.
We Christians like to reserve the following verse for our foes:
Claiming to be wise, they became fools…
—Romans 1:22 ESV
Do we ever consider that in thinking we are wise about human nature and what people need we have instead become fools and substituted a genuine intimacy with the Lord for something else? Something that doesn't satisfy and never can?
There is nothing so sad as a church that keeps piling on the show while people sit in the seats and wonder why it is they leave after an hour and still feel empty. Five minutes outside the church door, the entertainment's buzz has worn off, and again the reality of life has rushed in to fill the perpetual void.
Authenticity may be a buzzword, but people are dying for it nonetheless.
What if we stripped everything we do as a church down to its core? What if we pitched the amped worship band? The PowerPoint presentation? The CCTV? The theater-like church building? The one-hour show?
What if we went back to prayer? What if we opened our services for people to stand up and share their needs? What if we ate a real communion meal together and took our time doing so? What if the people in the seats were given free reign to use their gifts to minister to others in the body during our services?
What if we talked about Jesus and not just about ourselves? What if we held Him up in such a way that awe came back to the people because of who He is and not because of the new light bar we got for the stage?
What if?
It's not just the young believers who are dying for real food. These are tough times. Some of the people hit hardest are those who have been walking with Jesus for the longest time. Satan hates those people, and he will do everything he can to discourage them, because if he takes them down, the young in Christ will go down too.
I can think of nothing sadder than a person who comes to church desiring Jesus but who instead receives trifles.
It doesn't have to be that way. Time to purge everything that hinders.