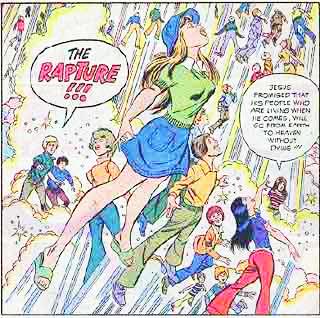 I started to write a clever post today on eschatology, with a setup piece of fiction about a U-Boat sinking a merchant marine ship in WWII and the merchant marine ship's  first mate running around deck yelling, "I'm going to be rescued now, I'll get a new ship, and I'll be made captain!" but I just ran out of steam. Perhaps I'm weary from the mentality a good chunk of the modern American Church displays on the End Times. (A decent PDF chart of the major eschatological views.)
The prevailing view of The End among most Christians in the United States is dispensationalism. If you're familiar with the Left Behind series of books, movies, and licensed products, you know dispensationalism. You may also have heard of it through the book The Late Great Planet Earth by Hal Lindsey, which popularized the view. (And let me add, that if you have read LGPE, you're probably a geezer, just like yours truly.)
The key pieces of dispensationalism: two distinct histories for the Church and Israel, including post-Second Advent of Christ; a removal of the Church from the earth (the Rapture—see 1 Thessalonians 4) before seven years of horrific tribulation; the Second Advent and 1,000-year Reign of Christ; the Revolt of the Nations; and the Final Judgment.
I wrote a paper in college debunking dispensationalism, but of all the things that bothered me about that view, two stick out: its youth and its presumption.
Dispensationalism as a formal Christian eschatology had no real traction until the 19th century, and it was then popularized by one man. A Christian theology that doesn't appear until the 19th century pretty much insist that everyone who lived before that era was a moron when it came to understanding The End. This includes the folks who built the early Church, because they didn't hold to a dispensationalist view. Nor did the great Protestant Reformers.
And as I've mentioned elsewhere on this blog, when an idea starts with one man and no one else, it's worth scrutinizing, since individuals have a strong penchant to get things wrong. And if we're going to rejigger how the entire Church views The End, getting it wrong isn't an option.
Part of that presumption that sticks most in my craw is the idea that the Church will be removed from the earth before the real craziness starts. Most eschatological views support the idea that the Church will be "caught up" to meet Jesus. When is the big distinction between theories, with How being secondary.
When I read the Bible, it seems clear to me that in all of human history, God never removed those who believe in Him from pain, persecution, and the fallout of a fallen world. Lot endured Sodom. Joseph lived through the famine. Joshua wandered the desert with his people. The righteous Jews went into captivity in Babylon. The faithful disciples and apostles were martyred. Time and again, the faithful went through the mess everyone else did.
Where they differed from the rest was in how they dealt with it. Faithfully. And with longsuffering.
And yet one of the hallmarks of dispensationalism is the idea that all the Christians will be removed from the planet before the real End Times suffering comes. That seems out of character with everything the Bible shows us about patient endurance in hard times.
Some Christians who follow a preterist eschatology will argue the genuine nastiness envisioned in the Bible happened in AD 70 already, and all this talk of future tribulation is a waste of time.
Maybe.
Regardless, dispensationalism is the predominant eschatology in today's American Church, and it drives much of how we live.
We base our Christian theology on it.
We base our American politics on it.
We base our American foreign policy on it.
We base our American economy on it.
We base our American environmental policy on it.
We base our American lifestyles on it.
We base our Christian practice on it.
And the major mentality we espouse when we hold to a dispensational view of The End is…
It's all going to burn,
And I'm out of here anyway.
When I look around at today's Church in America, I see that mindset. There's a sense that there's no need to try to fix the Church and its problems because, hey, "It's all going to burn, and I'm out of here anyway."
Doesn't matter what the issue is. Why steward the earth if God's going to burn it up anyway? Why prepare our churches to help meet the needs of those caught up in persecution and tribulation if Christians won't be here to do it? Why do anything that requires bold effort and genuine sacrifice if you're just floating along before Jesus comes by with His Gospel Ship and you sail away together?
There's a nihilism there. Can you see it? When we resign ourselves to checking out before the actual checkout, we miss whatever it is that happens before then. We forgo the opportunity to be useful.
As long as Christians have mentally checked out of the world as it is today, I think the Church will be ineffective with whatever time we have left. And it may be that instead of the 10 years some may think we have, we're due for another 1,000 yet. How long doesn't matter. A Church that has its Rapture bags already packed is just waiting around, killing time.
I don't see how any of that is Biblical or even remotely Christian, though.