"Just Do It"
We all know the slogan. It may be the most popular of our era. If any marketing motto can speak for the American psyche, it's this one.
Conversely, "a friend of God" once wrote this:
But for you, O LORD, do I wait; it is you, O Lord my God, who will answer.
—Psalms 38:15 ESV
The Bible is filled with humble people who waited on God. Waiting involves serving, abiding, and patiently expecting. Waiting always demands time.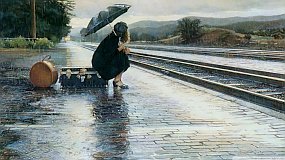 God dwells apart from time. He's the attendant at both your departing train station and the station at the end of the line–at the same time. And He knows every happening in-between. You can't fool Him, because he's at the beginning, end, and all points along the way.
Big picture? He alone sees and understands it. No one, human or otherwise, does. Betting people would be idiots not to bet on God. He knows how the dice land even before they're tossed.
Yet most people live by "just do it."
Jesus lived this way:
In these days he went out to the mountain to pray, and all night he continued in prayer to God.
—Luke 6:12 ESV
The understanding behind that waiting:
So Jesus said to them, "Truly, truly, I say to you, the Son can do nothing of his own accord, but only what he sees the Father doing. For whatever the Father does, that the Son does likewise…."
—John 5:19 ESV
Wait. See. Do.
Expect. God will answer. Then we will know our course of action.
Nothing in our cultural and societal milieu supports waiting, especially waiting on God. We rush from one forced solution to the next. When people wring their hands at the condition of the world today, the fretting results from the fruit of impatience, of a "just do it" attitude among leaders, who feel compelled to act, yet do so without waiting on God and seeing what He is doing.
Such leaders inhabit not only our government offices but also our church buildings. They even inhabit your home and mine.
No wonder so many programs and initiatives fail. Even governments and churches. Households, too. In failing to wait, we will not see, and therefore, whatever we do in blindness will never be of God.
Yet, somehow, the one who waits on God is deemed the fool.
Except by God Himself.