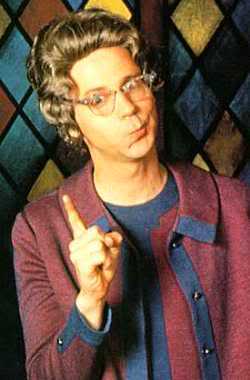 My Cerulean Sanctum email inbox fills daily with "helpful" notes from Christian PR companies telling me about another Christian book I'm not going to read. Or a Christian movie I'm not going to see. Or some other Christian "event" that threatens to shake the pillars of heaven because of its importance in human history but which I won't attend.
I can almost guarantee that no one sending me those emails is asking, If it were me, would I want to be on the receiving end of this spam? Is this how I want someone else to treat my inbox?
The sad truth is that those folks would probably find a way to justify a response of yes—and find Bible verses to support their position.
But they've simply forgotten the Golden Rule of do unto others as you would have them do unto you.
I think a lot about the Golden Rule of Jesus when I interact with other people. Anymore, I keep it ever before me. I try always to put myself in the other person's shoes.
I wish more people did that.
And I wish more Christians did that not only in their emailing me but also in how they evangelize others.
We know that the Gospel message is the difference between life and death. Eternal death. We know.
But most people don't get it. To them, our insistence on pressing that message only turns them off. To them, the message is spam. And we're spamming them.
We're not thinking the Golden Rule when it comes to evangelism.
Some people are ready to hear, and some people aren't. The reason we're not as effective in evangelizing as we should be is that we're practically deaf to the Spirit. The Spirit knows which people are ready to hear. We should be listening to the Spirit. By not listening to the Spirit's leading on who is ready and who is not, we only make the unready think we're spamming them with the Gospel. Then they close down. Perhaps forever.
When the Spirit does alert us to someone who is ready to hear, are we remembering the Golden Rule? Are we presenting the Gospel in a way that we would want to hear it? Do we want to feel manipulated by someone else's words or their delivery? Don't we hate it when salesmen pull sales techniques out their bag of tricks and use them on us? Don't we hate it when we're made to feel like little more than one more number closer to the monthly quota?
We don't have to come off as pests. The way to keep from being a Christian pest is to always remember the Golden Rule. In all things, how do we wish to be treated? We should then treat others the same way.
That not only applies to spammy PR emails, it applies to all interactions we have with lost people. It even applies to evangelism.
Are we pests? Or are we Spirit-attuned, empathetic bearers of the best possible news?