Toward the finale of The Return of the King, after Frodo and Samwise have cast the evil ring into the molten core of Mount Doom, an exhausted Sam, recovering from his ordeal, awakes to the face of Gandalf.
"Gandalf! I thought you were dead! But then I thought I was dead myself. Is everything sad going to come untrue? What's happened to the world?"

A great Shadow has departed," said Gandalf, and then he laughed and the sound was like music, or like water in a parched land; and as he listened the thought came to Sam that he had not heard laughter, the pure sound of merriment, for days upon days without count."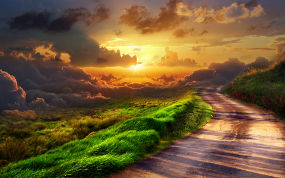 Yesterday, I attended the visitation of an old neighbor from an old neighborhood, the one in which I experienced some of the sweetest days of my life. Joe had suffered through dementia for years, and the family of six boys with whom we played football in our backyards felt a sense of relief for their dad. Shirley, his wife, did too. She said it was a blessing that all this happened during Holy Week. Even in that sad time, there remained hope that everything sad is going to come untrue.
The passion of Jesus marks the high, holy days of the Christian Church. And they are holy because they mark the beginning of the answer asked by a beloved fictional character.
In the cross of Jesus, everything sad begins its journey toward untruth. The lie of who we were in sin is replaced by the truth of who we are in Christ. The great shadow over us has been removed.
In the resurrection of Jesus, sadness takes a further step toward being untrue. Death no longer holds the victory. Christ triumphed over it. When we are in Christ, so will we be victorious. And there will be no second death.
In the ascension of Jesus, sadness declines yet again, as the promise is of Christ's return. In that return, we understand that sadness will be swallowed up in truth, and that tear-filled eyes will no longer be so, that no one will want for anything, and that all our crushed dreams will live again.
And sadness will be untrue forever.
In this week of recalling Jesus' betrayal, death, and resurrection, we understand that the world has changed, because Jesus made it so.
Jesus can change your world, if you lay aside your life and let Him give you His. All you have to do is ask Him.