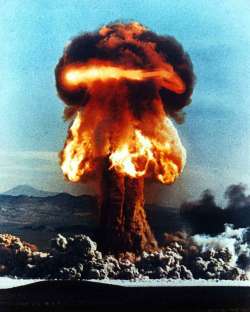 I'm late to the game in commenting on Pastor Bill Hybels's recent admission that Willow Creek Community Church's ministry model doesn't make disciples like he thought it would. (Out of Ur has all the details in "Willow Creek Repents?" And yes, read the whole thing.)
No freakin' duh on the certain failure of that ministry model. I could've told Pastor Bill that 16 years ago.
Enter now the Wayback Machine and witness a snotty-nosed, wet-behind-the-ears Wheaton College senior sitting in the third row of the massive balcony at Willow Creek circa 1991. Look at that guy. Consider the utter cluelessness, the vapid stare, the hapless scribbling of notes as Bill Hybels ladles up another patented feel-good message for Unsaved Harry and Mary. Who does this whippersnapper think he is, sitting in the crow's nest examining the church? Examining!
That would be me.
See, as part of a senior ministry project, I did a semester-long analysis of Willow Creek's ministry model. Back then, Willow Creek was hitting its stride as the church everyone else wanted to copy. If your church and mine were the waltz, Willow Creek was the lambada. We're talking a sea change cultural phenomenon, especially in the Greater Chicago area.
So I spent the better part of my senior year attending Willow Creek. And when I'd scrutinized the last detail, my paper on the project came up with one conclusion: No sir, I don't like it!
Now, I'd love to say that I—someone whose middle name is "Backup"—have a copy of that paper to post here, seeing as I saved it on not one, not two, but three separate floppy disks stored in three separate locations. But amazingly enough, over the years, a fungus destroyed all three disks and said paper is now lost to the ages. Urgh.
(Hey, and no jokes about my conclusion being rotten.)
Anyhow, the obvious problems existed in the model. Yes, just about everyone could see it was Christianity Lite. No cross, no self-sacrifice, no holiness, and a Jesus who kind of resembled that nice boy your daughter dated once. You know, Chip, or Biff, or Eugene, or something like that.
This is not to say that Willow Creek didn't offer a lot of scientifically-derived programs styled to meet their target demographic. They could plug people into a small group Bible study faster than you could say "Hegelian dialectic," though the Bible studies were not so much geared to babes in Christ as they were to zygotes.
But for all the trendiness, the slick production, the worship orchestra, the theater seats, the pre-sermon dramatic skits, and the general showbiz feel of Willow Creek, three glaring faults stood out:
1. Commitment – The major problem with Willow Creek and every single church based on a Church Growth Movement model is that at no point is anyone asked to make a serious commitment. Why? Because commitment exacts a cost, and Willow Creek could not expect Unchurched Harry and Mary to meet that cost. Ask them to commit to anything and they'll pack up and leave. And under the CGM model, that's the last thing you want them to do.
This is why the Gospel had to be made lowest common denominator to the point of no longer being the Gospel. This is why you never heard about dying at the cross. This is why the message had to be propped up with some man-inspired incentive.
All the offensiveness of a scourged Savior bloodied by Unchurched Harry and Mary and hung on a cross would be too much for them. Jesus said that no one could be found in Him unless they ate His flesh and drank His blood and He lost nearly every follower He had because that was too much to ask. No one could ask for a commitment like that.
So no one at Willow Creek did. No one bothered to stand up and say that if you want to follow Jesus you're going to have to lay it all down. All of it. Even yourself.
Too much commitment.
You don't create future martyrs using Church Growth Movement techniques. Snazzy businessmen with a fish on their business card, but not a martyr. Gleaming housewives in gleaming houses with gleaming children, but no one prepared to die for the Gospel.
Because nothing is asked, nothing is gained. Strangely enough, in the end, everything is lost. Including the"disciple."
2. Communication – In a church that could not be more wired for sound, with hundreds galloping around the grounds with wireless headsets and walkie-talkies, how is it possible that such a church built around communicating like mad couldn't communicate?
Blame it on the business world model the Church Growth Movement idolizes.
No large organization can function without communication. But as many of us who have been in the business world know, communication grinds to a halt the more levels of management exist. Monolithic corporations with a dozen layers of middle management still exist today, but their inability to get the message from the lowest rung on the heirarchy to the top means they operate in slow motion, stuck in endless meetings, never knowing what the right hand and left are doing. GM or Ford, anyone?
In the West, the more levels of church bureaucracy that exist between the average guy or gal in the seat and the senior pastor, the less effective that church will be. Try to have a one-on-one with the typical CGM-influenced megachurch pastor. Good luck! You'll have to go through multiple layers of people with titles like "The Administrator to the Intern of the Assistant Undersecretary of Church Community Development's Adjutant General" just to get an appoint with the Intern himself. Senior Pastor? Fuhgedduhbowdit.
I was in a church like that, where I'd known the pastor from when he was a small group leader, yet when the church started to drift off message—as all CGM-based churches will—I could not for the life of me get a personal appointment with the guy to say two words about it. I kept on getting routed through one level of bureaucracy after another. Yeah, they eventually got the message, but only after God knocked the supports out from under the creaking foundation they'd built. Then I had leaders calling me on the phone constantly to talk to me, but only after I'd left the church.
When a model exists that intentionally prevents direct communication between the lowest levels and the highest, failure results. Don't believe me? Consider the whole point of the torn temple curtain. That's an image CGM adherents need to understand.
3. Community – The one thing that immediately struck me about Willow Creek circa 1991 was that I could walk in and walk out without anyone caring that I had been there. No one needed to say one word to me. I could just go, sit in my seat, have a quasi-spiritual experience and then drift back into the crowd and be forgotten. And people went to that church and hundreds of other CGM churches like it just for that reason: anonymity.
But that's not how you make disciples.
Yes, Willow Creek had a huge emphasis on small groups, but even then, the small groups felt disconnected from the Body. A white widower with one child would be herded into a group of White Widowers with Precisely One Child, but which of us wants to be stuck in a group that looks exactly like us? Even then, studies have shown that the maximum small group participation any church can expect runs at a measly 30 percent. How then does someone plug into that community?
In the end, most people have their connection through the Senior Pastor they hear give the message every Sunday, yet the layers of the ministry model never allow people to actually meet with him. Or with any other of the senior leadership. Disconnects exist at every level.
What results is that people are always looking in the wrong place for their growth. It's better to sit back on Sunday and try to soak up the fluffy message. Forget about all the other stuff. Because of the anonymity, people can skate by unknown for years. Then because of the lack of commitment, they never come under any kind of authority on a direct level. The failures simply compound. The entire reason for the church to function as a discipleship engine shuts down.
I saw all this 16 years ago. Me, with a year of formal Christian Education training. How then did Willow Creek's heavily-educated leadership miss this for more than two decades?
What troubles me even in the face of their acknowledgment that their discipleship model is broken is that they still don't get it. As Hybels says:
We made a mistake. What we should have done when people crossed the line of faith and become Christians, we should have started telling people and teaching people that they have to take responsibility to become †˜self feeders.' We should have gotten people, taught people, how to read their bible between service, how to do the spiritual practices much more aggressively on their own.
While I'm sure that confession from Hybels had a lot of Willow Creek haters hooting, it's still only a partial truth. Worse, the haters can't see the other half, either.
What strikes me more and more as I read the New Testament is the emphasis on the words we (plural) and you (plural). The Church is viewed as a Body, not pieces. Christianity is not a religion of individuals but of community. In light of this, Evangelicalism's"personal Jesus" idea has damaged us as badly as the Church Growth Movement has.
So while some are happy that Willow Creek's planning on making people into better self-feeders of the Gospel, the Gospel must be presented and worked through within community. That's what makes it stick!
How many Christians go to churches that hammer the self-feeder message, yet aren't making disciples because they continue to downplay community? I would suggest far too many for us to be comfortable.
We all know Paul's Body illustration in 1 Corinthians 12. But where does the self-feeding ear or hand come into play? Cut off an ear and then try to force it to take nourishment. How long will that ear survive?
We need each other. A church with communication and community problems can have all the commitment in the world and still make deficient disciples.
Until Willow Creek gets this, their stab at making better disciples will probably not go very far. It's sadly ironic that churches that criticize Willow Creek are making lousy disciples, too, because they completely miss how communication and community are essential to becoming all we can be in Christ.
So while it looks like the flagship of the Church Growth Movement has struck an iceberg, it's far from clear sailing for those churches that criticized its captain and his charts. We might have superb commitment, and may even be adept at self-feeding, but unless we get our community and communication down pat, we'll be adrift, too.