Did that title grab your attention? Good. Because I mean it.
Rather than add some pointless setup here, I'll go right into it:
1. Stop the sermons.
Most people can't remember one point of the three-point sermon they heard last week. Many pastors couldn't deliver a transformational sermon if the lives of their flock depended on it (and sadly, that is probably the case). I'll go so far as to say that the average sermon given on an average Sunday doesn't change the average American pew-sitter one iota. While that's a crying shame— and shouldn't be the case—I suspect it is.
So maybe it's time to pack away the sermons for seven months. Discipleship is a long-haul reality, and no one will have his or her spiritual life derailed for want of seven months of so-so sermonizing.
Besides, we're going to substitute something guaranteed to change lives.
2. Find a good orator—or three.
We put our best musicians in front of the church, right? Let's find two or three people in our church who truly grasp the English language and can breathe life into words. This is both a gift and a talent. We should encourage those who speak the language with gusto and life. (Leaders, you are making it a priority to identify, encourage, and utilize the giftings of people in your church, aren't you? And the best speaker in the church may not be you—or any of the other leaders.)
3. Open the Bible.
Remember the Bible? In some churches it seems as if hardly anyone does, despite its being the word of God. We're going to open it and see what it says.
4. For that Sunday, have an orator read one book of the New Testament in its entirety before the assembled church.
Okay, so a few of those longer books may need to be split into two readings, but considering the length of the average sermon in an Evangelical church, it's doable for most of the books.
5. Repeat for all 27 books of the New Testament.
Now enjoy the positive transformation. Your church WILL be changed.
I'm not kidding.
We've got our heads in the sand if we think that most Christians have experienced the Scriptures this way. Fact is, the way we Americans teach and read the Bible is a piecemeal shambles. We approach it in such microscopic bits that most Christians have no idea how it fits together. We have no vision for the wholeness of the Scriptures.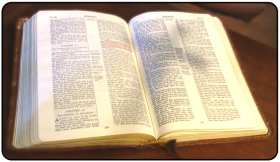 It's why the Bible-reading plan I advocate reinforces repetitive reading of entire books. Simply put, most Christians have never read the New Testament books as they were meant to be read.
We're also fooling ourselves if we think that most Christians have read the entirety of the New Testament. Nearly half of all college graduates, once they step out of those ivy-covered halls, will never again read a book all the way through. This is especially true of men. For those who didn't graduate from college, it's certainly worse. And no, I don't believe the Bible gets a pass on that lack. Given how little Scripture is read in the average church on Sunday, most Christians may otherwise never hear the entirety of the books that forge the backbone of all we are supposed to know and grasp.
We get all huffy about interpretation and so on, but do we trust the Holy Spirit and the Scriptures to deliver on their promise to transform lives? Faith comes by hearing the word of God, right?
How then can this plan not be an EPIC WIN for your church—or for every church in North America?
I say we start this Sunday.
Because the system we have in place for transmitting the Scriptures to people in the pews simply is not working.
And because the Word of God doesn't need our additions to work miracles in the lives of those who hear it.
All we have to do is believe that is true.
Do you?