Once again, they're doubling the size of the local daycare facility. They doubled it just a couple years ago. In a town of about 3,000.
The latest statistics show that the average American is rapidly approaching working a ten hour work day. Couple this with a daily commute of close to an hour, and you have a country in which people just aren't home.
Five years ago, the majority of families we knew were single-wage-earner households. Now, almost none are.
Into these statistics wade several parachurch organizations that tell us exactly how Christian families should look:
The father works outside the home.
The father is the spiritual leader of the family.
The mother stays home with the children and, preferably, does not work.
If she must work, she works from home.
The father must always be the primary breadwinner.
Unless parents wish to abandon their children to the spirit of the age, they best homeschool.
Hmm.
On the surface, those are all nice ideas. The problem comes when the parachurch organization uses them to gauge the spiritual health of a family, or to tell certain families they aren't cutting it. They'll use Bible verses in their accusations, often in a haphazard manner, to prop up their assessments.
I'm troubled by the "you're in, you're out" nature of some of these diktats. When I examine these standards, I have to ask how they reflect most people's realities. If they don't, then I would hope that, like a good change-agent, the parachurch organization would address the problems and seek solutions.
I would hope.
Let's look at one issue above and see how it works in the real world.
I'm all for paternal leadership in the home. I think that's as God intends, but with an understanding that a godly wife can often hear the Lord as well or better than her husband from time to time. (I'm sort of a wishy-washy complementarian with a few select egalitarian leanings. )
But I simply must ask this: what kind of leadership can we expect of any man if he's out of the home most of the waking day?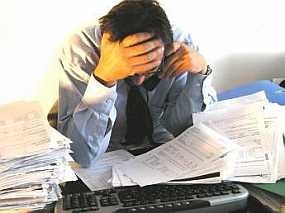 With the growing amount of time spent at work and in the car during the commute, should we be surprised that a father's authority at home gets taxed by the very lack of his presence most of the day?
Now, you would think that an organization whose whole reason for existing is to uphold paternal leadership at home would be doing something–anything–to combat this trend that takes men out of the home all day. You would think.
But then you'd be wrong.
Last year, I wrote several e-mails to a well-known parachurch organization about this very issue. I asked them what practical means they were taking to help families keep their men at home. They wrote a reply reiterating their standard, but ignored my question concerning their plan to help Christian men meet that standard. When I followed-up with an e-mail asking if the organization was meeting with corporate leaders across the nation in order to advocate for shorter work weeks so that employees could spend more time at home helping their families, I got a rather terse response saying they weren't doing anything like that.
In the end, they still had a standard, but no way to make it practical in the lives of men struggling against the business world's expectation of increasing hours (and with no increasing pay to compensate, either).
I asked that same organization about the tendency for businesses today to hire women over men because they can pay women less (and because government quotas with money behind them abet this plan, especially when it concerns minority women). This puts men out of work, and subsequently, many men find themselves having to take jobs that pay less than their wives. The second fallout of this is now both spouses have to work in order to make what the man made before he got RIF'ed. What was the organization's solution? Silence. The practical steps they were taking to combat this? Nothing.
After a while, one can go through every single standard an organization like that upholds and find that, while they love upholding it, they possess no means to help anyone else meet that standard. How tragic!
Imagine that NASA discovers a planet just beyond Pluto whose surface contains an unusual liquid that bubbles up from within that planet's core. NASA scientists have almost conclusive proof that a few drops of this liquid, if harnessed, would forever power every energy-using device on Earth. Then NASA issues a press-release stating it has no intentions of sending any craft to that planet to retrieve this precious liquid. They've already told their scientists not to pursue further spectral analysis. Nor will they let any other scientists examine the data on the liquid so that it might be synthesized on Earth.
Do you think folks would be furious?
Where's the fury then when Christian organizations demand a certain way of living, yet offer no means or help to make that living possible?
Truth is never meant to be used as a cudgel, but as a means to help others live life more abundantly. If the guardians and wielders of truth only use truth to shame others and make them live in a perpetual state of guilt with no possible escape, hasn't the truth struck out?
Christians MUST offer truth to the world. But to do so in such a way that it becomes another set of shackles isn't New Testament Christianity.
I believe that one of the reasons people today don't consider Christianity a viable truth comes from our perpetual offering of that truth with no practical expression. For you or me to understand truth, it must intersect our lives. It can only transform us when it indwells us. And to indwell us, it must have a way for us to live it.
I keep wondering who the Christian leader will be who holds out a standard and then helps everyone meet it. I hope that Christian leaders interested in godly families will speak out against the economic forces threatening to destroy us.
And so I keep wondering and hoping…