I [Paul] therefore, a prisoner for the Lord, urge you to walk in a manner worthy of the calling to which you have been called, with all humility and gentleness, with patience, bearing with one another in love, eager to maintain the unity of the Spirit in the bond of peace.
—Ephesians 4:1-3 ESV

Do nothing from rivalry or conceit, but in humility count others more significant than yourselves.
—Philippians 2:3 ESV

Put on then, as God's chosen ones, holy and beloved, compassion, kindness, humility, meekness, and patience, bearing with one another and, if one has a complaint against another, forgiving each other; as the Lord has forgiven you, so you also must forgive. And above all these put on love, which binds everything together in perfect harmony. And let the peace of Christ rule in your hearts, to which indeed you were called in one body. And be thankful.
—Colossians 3:12-15 ESV

He must increase, but I must decrease.
—John 3:30 ESV
There is much talk about manhood today, but I don't see much of it in practice. Contrary to popular opinion, it's not about hunting bear with a pointy stick and never has been.
Many bestselling Christian writers talk about being warriors. They sell truckloads of books and inspire the creation of thousands of men's groups in countless churches. Men go on "advances" (don't EVER call it a "retreat"—too girlie) to learn how to develop their inner warrior, or if the group has more of a business focus, their inner leader.
Despite the millions of books sold, speaking engagements across the world, and a guaranteed bestselling sequel when the sales of the latest warrior tome peak, one arrow is routinely left out of the warrior author's quiver: humility.
By nature, humility and war are a hard marriage. The examples don't come as readily as the images we get of tough, swaggering men in bullet-shredded uniforms, each with a cigar firmly clenched between his teeth, mowing down one wave after another of Nazis, flamethrower in one hand, tank gun ripped off a flaming Sherman in the other. Such men ascend through the ranks and become twelve-star generals, husbands to nubile movie starlets, and CEOs of multinationals that consume lesser companies no matter how many poison pills are consumed. That's the role model of manliness we Americans hallow. (In the American Christian world, the model's pretty much the same, though the cigar is suspect.)
I've thought long and hard about some examples of humility and warrior spirit, the best example I can toss out there (besides the obvious ones) is that of the man after whom the city near where I live is named, Lucius Quinctius Cincinnatus.
The story is told that Cincinnatus, a farmer well-liked by his neighbors, was called to serve in 458 BC during a time of great threat: enemies were advancing against Rome. Despite the fact that his family might starve as a result of his decision, Cincinnatus accepted a call to lead the armies of that great city. He was declared dictator, swiftly defeated the invaders in just sixteen days, and immediately resigned as dictator, going back to his farm. Nineteen years later, he was called out of retirement to meet a new threat to Rome. And again, he fought the fight and promptly gave up the throne to go back to rural life.
That's not the kind of example we are given too often today.
Less often than that do we have examples of men who never picked up a sword or gun, who never spilled blood, but spent most of their time on their knees.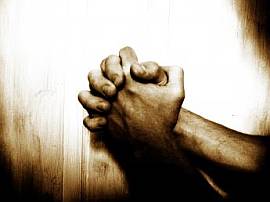 George Mueller was such a man. A lot of the testosterone-laden out there wouldn't think much of Mueller; he was concerned for orphans. Sounds kind of womanly compared with the examples we see held up in bestselling men's books. But Mueller prayed. That man sweated out big prayers that met big needs and overcame ferocious principalities and powers that sought to destroy little boys and girls, demonic forces that wanted nothing more than to grind up children in the hardscrabble streets of England. And the one thing that people said about Mueller besides the fact that he was a praying man? That he was humble.
As much as the bestseller shelves are loaded with books jam-packed with bone-chewing examples of manliness, the dearth of books featuring meek and humble men speaks volumes. Simply possessing a penis and knowing every great line from Spartacus, The Green Berets and the king of all warrior movies, Braveheart, doesn't qualify you for warriorhood. Making prideful, snarky assertions about someone's eternal security on the God-blog flavor of the week doesn't make you God's man, either. It takes a humble man to walk into his prayer closet (where, it should be noted, there are no ticker-tape parades), kneel in humility before the Lord, and start assaulting the powers of darkness through prayer. Your average street dog can easily sink his teeth into a flesh and blood foe, but only a meek man devoted to prayer can tear down demonic strongholds in spiritual places!
The problem with Christian manhood today is not that there aren't enough villages to plunder, it's that humble, stooped grandmothers are out there on their knees fighting the battles that "real" men are too proud (or lazy or weak) to fight. Too many men in our churches moan that someone stole their warrior badge. Meanwhile, Satan is plundering OUR village. And he's doing it not in the obvious places, but in the spiritual realms, the very place that prayer alone works.
John the Baptist prayed (you didn't realize it was a prayer, did you?), "He must increase, and I must decrease." Men, that's meekness and humility right there. That prayer is the true warrior's marching order. Likewise, our call to honor is found in Ephesians 4:1-3. If the Savior emptied Himself and became a servant, dying in the utmost humility, meekly refusing to justify Himself before men, how can we be any different? Only after Christ fully humbled Himself was He exalted and given The Name Above All Names.
Do we get it? Or are we going to keep on blathering about our warrior birthrights while we pick off the "weak" through our clever arguments, our mocking haughtiness, and our brutal gracelessness?
True Christian warriors are men of humility and grace. They understand that only when they are weak are they strong.
Which kind of warrior are you?