God's torch is passing to Asia, and he is performing many miracles in China.
—American missionary David Lin
Diane over a Crossroads is starting a series looking at the underground Chinese Church. I'll be quoting liberally from her blog,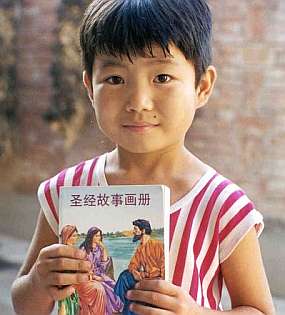 but as always, it pays great dividends to read her post.
Every Godblogger I know tries to tell it like it is, but inevitably the vast majority of us are English-speakers of American and British extraction. No matter what we might think of ourselves, most of us are not that much different in how we reflect a Western Church philosophy with roots in Reformation Europe. Acculturated as we are within Evangelicalism (mostly), we also take on the sheen of our wealthy American and U.K. culture. Especially for those of us in the United States, our models for how to live out the Christian walk are inextricably linked to American Manifest Destiny, the American Dream, Rugged Individualism, and a "What's in it for me?" attitude.
Yet not every Christian in the world thinks or acts like we do. I know it's hard to believe, but we are not the measure of all things Christian.
Yesterday, I posted that our Western roots and over-reliance on Greek thought have led us into a pit of division, where sides must be chosen, for some have even wondered which hemisphere of our brains is more godly. While we seem to be obsessed with drawing dividing lines wherever we can stick our straight-edge, the non-Western world shows us a Christianity far less at odds with itself—or with the Gospel.
Take the simple act of prayer. Ask most Americans about prayer and they'll say they wholeheartedly believe in it, even if they don't do all that much of it daily. The Chinese underground Church takes a different stance. Not only are the leaders of those churches praying several hours each day, but they have older saints who are devoting themselves to prayer all day and most of the night.
A couple years ago I posted a comment to TheOoze Web site stating that I did not believe that the Church in America would ever see any kind of revival unless people started praying a minimum of two hours a day. The response was that two hours of daily time dedicated to nothing but prayer was too much to ask. TheOoze is an Emerging Church site, so I was not surprised by that reaction from the mostly sub-35 crowd there. But what has been eye-opening to me is that Emerging Church foes in the Traditional Church largely have the same response: two hours solely devoted to prayer is unreasonable given most people's circumstances.
If one assumes that we continue to follow the societal structures we've created in our "every man for himself" society hellbent on fifty hour work weeks, two hour commutes, and family quality time, then maybe two hours is too much to ask. But persecuted Chinese Christians are pulling it off. They seem to be loaded with praying people, but where are our Western prayer warriors? If we wonder why Christianity in the U.S. is in the doldrums, I think we should look no further than the woeful prayer lives that most of us have, from the newest believer up to the most senior pastor. What kind of vital faith do we expect to see when we try to squeeze by on a handful of minutes tossed heaven's way while we rush around like headless chickens?
I don't hear American Christians talk about breakthroughs in the Spirit the way the Chinese do, either. We tend to timidly toss in the towel when confronted with a mountain-sized challenge—or else we resort to the following:
Traditional Church – Form a committee to examine the challenge. Form another one when the original disbands because of in-fighting.
Emerging Church – Walk a labyrinth to clear our heads so we can think deep, spiritual thoughts about the challenge while asking, "What would Thomas Merton do?"
Seeker-Sensitive Church – Commission a demographic study to examine what most people think of the challenge, then design new programming that makes talking about the challenge culturally relevant.
Charismatic Church – Bring in a band of traveling prophets to have them scry the meaning of the challenge in terms of battle plans for Joel's Last Days Army.
What do Chinese house churches do? They fast and pray for as long as it takes for God to resolve the challenge. As one Chinese Church leader says it:
When there is a real resistance, the teams do not try to push the Gospel. They just go on their knees and wait on the Lord to hear His voice for direction on what to do. They just keep silent and continue to fast and pray. This is a very practical part of their lives.
Is that how our churches today—no matter what kind they might be—do anything?
Our Western tendency to compartmentalize the Faith is strange to Asian believers. They have a far more holistic view of the Gospel and how it plays out in everyday life. From Diane's post:
Brother Denny (an American missionary interviewer): How do the Acts of the Apostles compare to the Chinese church? What does the Chinese church believe about the Book of Acts?

Brother Paul (Chinese): They would say, "We are there. It is our normal Christian life." They believe that Acts is a demonstration of the normal Christian life. It is a testimony of the resurrected Christ, and He is still the same today. They do not believe that miracles have passed away.

Brother Ren (Chinese): We have to understand that the Gospel that is preached in China, is a little bit different. The emphasis is not only intellectual and mental messages. It is fifty percent preaching, fifty percent showing the power of the Gospel. There is always an expectation and readiness for miracles. It is normal that anytime when the message of the Gospel is pronounced, there is going to be a demonstration of the power of God in that situation. People can see clearly that Jesus is the Son of God, and that He is the Savior of the world. The church of China is not praying for miracles, but they are living in miracles. It is like [Brother] Paul said: it is the normal Christian life.
While we continually argue the theological points of our own little factions, the Chinese Church is living the whole Gospel, not just the parts they like. The result is that God is growing the Chinese Church exponentially, while we American Christians bicker about one topic or another as fewer people care to listen to what we have to say.
Here is a Church that has none of the material available to them that we have. They have no money, no political standing, no cleverly-devised programs, no conventions, and nowhere near the dogmatic factionalism that we have. But what they do have is a faith that moves mountains and may very well topple the atheistic Communist regime in their country of 1.3 billion souls.
And what of the persecuted Chinese Church's view of evangelism? Well, they believe that the Great Commission comes first. What is unusual to Westerners is how they go about it.
In many cases, Christians are sent out to towns that have no Christian witness and the first thing they ask is, "What is the greatest problem in this village?" When they hear what it is, they immediately begin fasting and praying that Jesus Christ would prove Himself greater than the problem. Diane quotes the Chinese Christians (from the quote above) saying that two young women went into a town and were told that a demon-possessed man had the townspeople under his thumb. They confronted the man in the name of Jesus, cast out his demons, and led him to Christ. Then that same man joined the two women as they spoke to the entire village about Jesus. All three hundred in that village repented and gave their lives to the Lord.
Does that model seem familiar? We saw it in Jesus' ministry and the ministry of the apostles in Acts. In fact, the Lord Himself advocated this type of ministry when He said:
And proclaim as you go, saying, 'The kingdom of heaven is at hand.' Heal the sick, raise the dead, cleanse lepers, cast out demons. You received without paying; give without pay. Acquire no gold nor silver nor copper for your belts, no bag for your journey, nor two tunics nor sandals nor a staff, for the laborer deserves his food. And whatever town or village you enter, find out who is worthy in it and stay there until you depart. As you enter the house, greet it. And if the house is worthy, let your peace come upon it, but if it is not worthy, let your peace return to you. And if anyone will not receive you or listen to your words, shake off the dust from your feet when you leave that house or town. Truly, I say to you, it will be more bearable on the day of judgment for the land of Sodom and Gomorrah than for that town. "Behold, I am sending you out as sheep in the midst of wolves, so be wise as serpents and innocent as doves. Beware of men, for they will deliver you over to courts and flog you in their synagogues, and you will be dragged before governors and kings for my sake, to bear witness before them and the Gentiles. When they deliver you over, do not be anxious how you are to speak or what you are to say, for what you are to say will be given to you in that hour. For it is not you who speak, but the Spirit of your Father speaking through you. Brother will deliver brother over to death, and the father his child, and children will rise against parents and have them put to death, and you will be hated by all for my name's sake. But the one who endures to the end will be saved.
—Matthew 10:7-22 ESV
Should we be surprised at the quote that opened this post? We out-thought the Lord here in America. We told His Spirit that we can do it all in our own cleverness or we told Him that He could not work that way anymore. Either way, we seem to have lost Him here in America. He took His fire to China.
I can't read Diane's post and not get excited. Unfortunately, I'm excited for China and not for America. We can't seem to see what we've done to ourselves because of our overt anti-supernaturalism and our reliance on our own human reasoning. Meanwhile, the Chinese Church is receiving the blessing of God while they live out the whole Gospel, or as they say, "The normal Christian life."
I don't know about you, but I want that same kind of "normal Christian life" here in America. What has happened to the Church here is criminal, but we brought it on ourselves. It will take the Holy Spirit of God to bring His torch back our way, but He'll only do that if we are ready.
Lord Jesus, make us all ready.
Tags: China, America, Revival, Holy Spirit, Evangelism, Church, Faith, Christianity, Jesus, God