In the course of your lifetime, how many people have you led to Christ?
This is not a question most Christians in this country suffer well. In fact, I would predict that on first reading, an immediate objection of some kind or other crops up and the reader begins splitting hairs.
"Define led to Christ…"
"Well, people don't actually lead others to Christ, the Holy Spirit does all the leading."
"God doesn't judge us on our ability to 'win' souls."
We want to make a doctrinal statement, but we don't want to answer the question.
I'll answer the question: perhaps a dozen that I can be certain of. There could be as many as ten times that, but only a dozen or so come to mind. I have no doubt that I've been an influential sower, but as a reaper, not so much.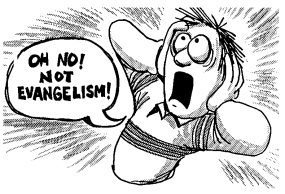 Pretty sad when you think about it. Right now, the only person I'm actively pursuing in that regard is my own child. And since he'll probably be our only child, that doesn't make me much of an evangelist right now.
My lame excuse is that I tend to focus on discipleship. Give me the new believer and let me show them how to walk out their new faith. But when it comes to real evangelism that leads to conversions, I'm a stiff.
Sadly, I've got plenty of company. The church used to place more of a responsibility for Christians to be actively sowing and reaping. Nowadays, sowing gets all the buzz, and it's a minute buzz at that. We think of evangelism as bringing someone to church to have someone else tell them about the Gospel. Us actually explain what we believe? No way. That's why our church went seeker-sensitive, wasn't it?
Twenty years ago, I routinely encountered people who tried to evangelize me. Today, it never happens. It's been at least ten years since anyone's come up to me and started into an evangelistic message.
There can be only one outcome from a Christians not sharing their faith. Those new folks in church this morning? Cannibalized from another church.
Gut Check #1: In the course of your lifetime, how many people have you led to Christ?
Comments are open and anonymous posting enabled…
Other posts in this series: