This one's not a convicting question, but I believe it's one that bothers many Christians nonetheless. It used to be the question I asked in the purpose statement for Cerulean Sanctum. Now I open it up for you all:
Do you ever sit in church on Sunday and wonder,
Is this the best it will ever be?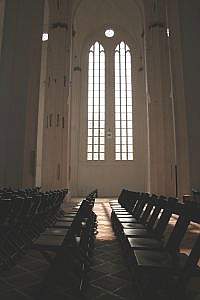 Some people would say that it's wrong to think such a thing, but I surmise a lot of people have a nagging sensation that they're missing something in their walk with Christ. They look around and wonder if anyone else feels the same way, and when they stop wondering whether other people are struggling like they are, they chalk it up to their own deficiencies.
This side of heaven, it won't be the best it will ever be. However, I believe it can be more than it is. What I haven't exactly come to understand is whether that question is a good or a bad signal. Is it wrong to feel like something's missing and to desire that something, or is it a sign of spiritual immaturity—or even a complete lack of faith?
Whatever the answer is, I wonder how many people get back in their cars after their church meeting and grapple with the fact that the last hour or so they spent in the company of other believers was lacking in a way they can't put their finger on.
Or is it selfish to even entertain that thought?
Other posts in this series: