Have you ever wondered if you've naturally (through cultural osmosis) fallen into a lifestyle that is antithetical to real, vibrant Christianity?
And worse, you're not sure how to change or you don't grasp what a more godly lifestyle looks like in America 2006?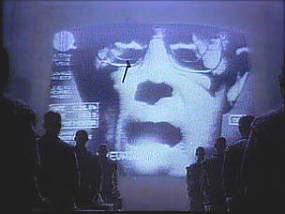 Right now, this is a big struggle for me. I think the lifestyle most Christian Americans lead is contrary to the Gospel, no matter how much we plead that this is "a Christian nation." We look too much like the world, have been seduced by systems that destroy us spiritually, and are unwilling to fight against that tyranny, instead making peace by Christianizing things that harm our souls.
Yet breaking out of that Darwin-inspired nightmare will prove costly. Smashing systems always is. We might lose everything but Christ. Yet isn't that what He says must occur if we are to truly find the narrow path that leads to glory?
Something's gotta change. Christians once were iconoclasts. What are we now?
{Image: Still from Apple Computer's "1984" ad}
Other posts in this series: