But as it is, God arranged the members in the body, each one of them, as he chose. If all were a single member, where would the body be? As it is, there are many parts, yet one body. The eye cannot say to the hand, "I have no need of you," nor again the head to the feet, "I have no need of you." On the contrary, the parts of the body that seem to be weaker are indispensable, and on those parts of the body that we think less honorable we bestow the greater honor, and our unpresentable parts are treated with greater modesty, which our more presentable parts do not require. But God has so composed the body, giving greater honor to the part that lacked it, that there may be no division in the body, but that the members may have the same care for one another. If one member suffers, all suffer together; if one member is honored, all rejoice together. Now you are the body of Christ and individually members of it.
—1 Corinthians 12:18-27 ESV
I hated the Army's slogan, "An Army of One." While it may have been true that the threadworn "Be All That You Can Be" begged to be updated, the answer was not in trying to convince recruits to better hone their individualistic lifestyles on the battlefield.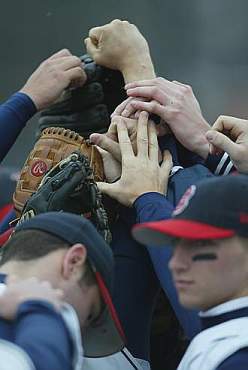 Chaos would reign if every soldier were left to be "An Army of One." The Army knew that, so it's a mystery why they went with that slogan. Perhaps they simply caved to the zeitgeist of "every man for himself." Still, no organization on the face of the planet should be less focused on the individual self than the Army.
Well, perhaps there is one organization….
The older I get, the more I see that nearly every problem in the American Church today can be traced to our damaged understanding of what it means to be self-less. Everything in our culture screams "Me, Myself, and I." Our government documents assert the "rights of the individual" and we've taken that to the extreme, justifying the rights of the individual over community. No verse in the Bible better illustrates our times than this:
All we like sheep have gone astray; we have turned every one to his own way….
—Isaiah 53:6a KJV
Everyone goes his own way. No one tells us what to do. We can do it ourselves. In fact, we must do it ourselves in order to preserve the American civil religion of self-sufficiency and bootstrapping. In many ways, the motto that best describes the way we Americans practice our civil religion is not "In God We Trust," but "God Helps Those Who Help Themselves."
For this reason, when we talk about community in our churches, we make a mockery of the word. True community creates a mindset that sees the world in terms of "us" and not "me." But what we exalt in so many sectors of the American Church are our individual rights.
We worship God as individuals, not as a community. Our worship songs rarely refer to our standing before God as a community, instead choosing "I" or "me" over "us."
Though God has ordained our work to be holy toward Him—and by extension to the Body of Christ—we think of our work lives as having no bearing on anyone else's.
We do not think of our possessions as being always in play for the Lord (Acts 4:34-35), but instead cling to damning concepts of individual ownership.
We practice our benevolence as individuals, talking about "my ministry" or engaging in ministries we do outside of our local worshiping body.
We interpret the Scriptures as individuals, not as a community, increasingly the likelihood of error and heresy.
We worship at the altar of the nuclear family, even though Christ says our family is wider than that, encompassing all those who do His will (Matthew 12:49-50).
We believe it is fine for brothers and sisters in our churches to suffer want, excusing our lack of help by claiming we might interfere with God "disciplining those He loves" or with His sovereignty.
We vociferously defend our right to private lives, though the Gospel explicitly states that we must die to self, and that we are not our own. (1 Corinthians 6:19b-20a)
It all goes back to the self.
For all the talk of the cross in the Godblogosphere, I'm not sure most people who defend the cross understand what it means to our practice of the Faith. We've developed this mistaken notion that putting self to death at the cross of Christ grants us rights to new, improved selves.
But Christ didn't die to form an "army of one." He founded a Church, the Communion of  Saints, that this side of heaven is called The Body of Christ!  If you've ever witnessed another person dying, you'll understand that each organ supports the whole. If the kidneys stop working, the brain—and everything else—soon follows. A loose affiliation of Christian loners will not accomplish His will. Those stragglers will be picked off one by one and die the wrong kind of death. If we can't see that already happening in our churches, then we're blind.
No, when we die at the cross, we're reborn into Christ and the community of faith He established. We no longer live to ourselves, but to the Lord. We express the servant heart of Christ by dwelling in unity within the communion of the saints, lovingly serving the brethren and reaching out to the lost.
Truly, truly, I say to you, unless a grain of wheat falls into the earth and dies, it remains alone; but if it dies, it bears much fruit.
—John 12:24 ESV
No one is meant to live alone. Even God is a Trinity. The fellowship of believers has its image in the fellowship the person's of the Trinity experience. Jesus explicitly stated His communion with the other persons in the Trinity numerous times.
By this we know love, that he laid down his life for us, and we ought to lay down our lives for the brothers.
—1 John 3:16 ESV
Too often we tend to think of laying down one's life merely in terms of physical death. I think that sells the idea short, though. Laying down one's life means that we do that which is selfless so that others benefit. In the harried times we live in, laying down one's life may consist of as little as doing without something we would like to purchase so that others might have their needs met. The truth here is that we lay down what we want so we can grow in humility and service. When a community of believers lives this way with each other, all needs are met and no one goes without. This is the way of Christian community, and it is sorely lacking in our churches.
The Bible has much to say about community:
1. Love for the Lord accompanies love for the community of faith, and vice versa. 
To the church of God that is in Corinth, to those sanctified in Christ Jesus, called to be saints together with all those who in every place call upon the name of our Lord Jesus Christ, both their Lord and ours…
—1 Corinthians 1:2 ESV

For this reason, because I have heard of your faith in the Lord Jesus and your love toward all the saints… —Ephesians 1:15 ESV

By this it is evident who are the children of God, and who are the children of the devil: whoever does not practice righteousness is not of God, nor is the one who does not love his brother. For this is the message that you have heard from the beginning, that we should love one another.
—1 John 3:10-11 ESV

If anyone says, "I love God," and hates his brother, he is a liar; for he who does not love his brother whom he has seen cannot love God whom he has not seen. And this commandment we have from him: whoever loves God must also love his brother.
—1 John 4:20-21 ESV
2. The Lord not only dwells in the individual, but also within the community:
For where two or three are gathered in my name, there am I among them.
—Matthew 18:20 ESV

A Song of Ascents. Of David. Behold, how good and pleasant it is when brothers dwell in unity! It is like the precious oil on the head, running down on the beard, on the beard of Aaron, running down on the collar of his robes! It is like the dew of Hermon, which falls on the mountains of Zion! For there the LORD has commanded the blessing, life forevermore.
—Psalms 133:1-3 ESV

I therefore, a prisoner for the Lord, urge you to walk in a manner worthy of the calling to which you have been called, with all humility and gentleness, with patience, bearing with one another in love, eager to maintain the unity of the Spirit in the bond of peace. There is one body and one Spirit–just as you were called to the one hope that belongs to your call– one Lord, one faith, one baptism, one God and Father of all, who is over all and through all and in all.
—Ephesians 4:1-6 ESV
3. Community = unity: 
May the God of endurance and encouragement grant you to live in such harmony with one another, in accord with Christ Jesus, that together you may with one voice glorify the God and Father of our Lord Jesus Christ. Therefore welcome one another as Christ has welcomed you, for the glory of God.
—Romans 15:5-7 ESV

Finally, brothers, rejoice. Aim for restoration, comfort one another, agree with one another, live in peace; and the God of love and peace will be with you.
—2 Corinthians 13:11 ESV

Finally, all of you, have unity of mind, sympathy, brotherly love, a tender heart, and a humble mind.
—1 Peter 3:8 ESV

And all who believed were together and had all things in common.
—Acts 2:44 ESV
4. Community testifies to the truth of the Gospel:
A new commandment I give to you, that you love one another: just as I have loved you, you also are to love one another. By this all people will know that you are my disciples, if you have love for one another."
—John 13:34-35 ESV
5. Community fosters spiritual maturity: 
And he gave the apostles, the prophets, the evangelists, the pastors and teachers, to equip the saints for the work of ministry, for building up the body of Christ, until we all attain to the unity of the faith and of the knowledge of the Son of God, to mature manhood, to the measure of the stature of the fullness of Christ,
—Ephesians 4:11-13 ESV

6. Community encourages the elimination of societal distinctions: 
My brothers, show no partiality as you hold the faith in our Lord Jesus Christ, the Lord of glory. For if a man wearing a gold ring and fine clothing comes into your assembly, and a poor man in shabby clothing also comes in, and if you pay attention to the one who wears the fine clothing and say, "You sit here in a good place," while you say to the poor man, "You stand over there," or, "Sit down at my feet," have you not then made distinctions among yourselves and become judges with evil thoughts?
—James 2:1-4 ESV

But it shall not be so among you. But whoever would be great among you must be your servant, and whoever would be first among you must be slave of all. For even the Son of Man came not to be served but to serve, and to give his life as a ransom for many."
—Mark 10:43-45 ESV
7. Community calls for less judgmentalism: 
Therefore let us not pass judgment on one another any longer, but rather decide never to put a stumbling block or hindrance in the way of a brother.
—Romans 14:13 ESV
8. Community meets needs:
Bear one another's burdens, and so fulfill the law of Christ.
—Galatians 6:2 ESV

There was not a needy person among them, for as many as were owners of lands or houses sold them and brought the proceeds of what was sold and laid it at the apostles' feet, and it was distributed to each as any had need.
—Acts 4:34-35 ESV
9. God desires the community to meet regularly: 
And let us consider how to stir up one another to love and good works, not neglecting to meet together, as is the habit of some, but encouraging one another, and all the more as you see the Day drawing near.
—Hebrews 10:24-25 ESV
10. God crafts us into a community of Faith:
As you come to him, a living stone rejected by men but in the sight of God chosen and precious, you yourselves like living stones are being built up as a spiritual house, to be a holy priesthood, to offer spiritual sacrifices acceptable to God through Jesus Christ…But you are a chosen race, a royal priesthood, a holy nation, a people for his own possession, that you may proclaim the excellencies of him who called you out of darkness into his marvelous light.
—1 Peter 2:4-5,9 ESV
Those are just a few verses that come to mind that testify to the preciousness of community. Hundreds more exist. If you have an electronic version of the Bible, search for the phrase "one another" and see how many community verses come up for that phrase alone.
Why have we not learned this lesson?
Just this month, the Army announced the end of the "An Army of One" ad campaign. The new slogan? "Army Strong." A tad basic, but better. How about us? How does "Church Strong" sound? I like it. A Church built on the strong community that Jesus Christ intended will naturally be "Church Strong." If we die to self, replace "I" and "me" with "us," I think we might grow into "Church Strong."
But we've got to start believing it and living it.
In the days ahead, this series will look at ways we can stop talking about community and truly live it out. With all my heart, I believe that this is the starting point for revival among God's people. If we truly live out the kind of community that the Lord desires of us, we will see no end of revival and empowering for service in our churches. Then maybe we will live like this:
And when they had prayed, the place in which they were gathered together was shaken, and they were all filled with the Holy Spirit and continued to speak the word of God with boldness.
—Acts 4:31 ESV
Posts in this series: