This year's Christmas Day was about the slowest day I can remember in a long time. We spent time away at the in-laws. All the usual Christmas activity happened on Christmas Eve, then Monday anti-climaxed. I spent most of Christmas Day in a comfy chair watching TV.
Well, just one show—about six hours of it.
We get the local stations at our house, and that's it. (I think I currently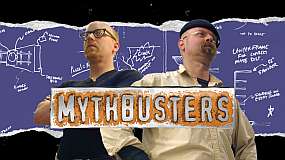 watch less than an hour of TV a week.) So shows that I did make time for when we had a couple hundred channels a few years ago (like Alton Brown's Good Eats and Mythbusters) now become a treat if I get to see them elsewhere. Just my luck, the Discovery Channel ran a Mythbusters marathon all day Christmas Day.
My Dad taught me no manly skills. I look in bafflement upon internal combustion engines. The idea of welding something sends images of burn trauma units and seared retinas racing through my mind. Science I love, but don't ask me to make or fix anything. That I can change the fluids and filters on my tractor is enough for me.
So a show like Mythbusters appeals to me because not only does it have a great science angle, but the sheer audacity of making all those crazy testing contraptions from scratch helps me appreciate those skills all the more.
If you've never seen Mythbusters, the two hosts (special effects experts Jamie Hyneman and Adam Savage) attempt to prove the veracity of "old wives tales," Internet memes, and urban legends. A duck's quack will not echo. A helicopter's rotors are so precisely balanced that a postage stamp affixed to one blade will cause the copter to crash. Adding Viagra to your Christmas tree's water will help it keep its needles. Driving over a bumpy road is smoother at a higher speed. You get less wet walking through a rain storm than running through it. The team tests each and assigns a value of "Busted," "Plausible," or "Confirmed."
After a marathon of watching the show, I asked myself, What are some myths that plague Christianity?
I've thought about this a bit, choosing to think like a non-Christian. Here are ten possible myths I came up with:
Christians are more judgmental than non-Christians.
Christians are stingier than non-Christians.
Christians are more intolerant of other people than non-Christians.
Christians are more short-sighted than non-Christians.
Christians don't know how to have fun.
Christians despise intellectuals more than non-Christians do.
Christians prefer kitsch over important art.
Christian subculture mimics the world rather than creating anything lasting.
Companies run by Christians are as unethical as secular companies, and perhaps more so.
Christianity causes more problems in the world than any other religion.
Busted, Plausible, or Confirmed? Readers, what's your take? And how might you devise experiments to test those conclusions?
Entries in this series:
{Image: The Discovery Channel's Mythbusters, Adam Savage and Jamie Hyneman}