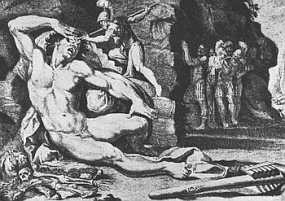 Over the last week, we've been looking at commonly heard statements about Christianity that have taken on mythical proportions. It's hard to be a Christian in the West and not encounter these myths:
Christians are more judgmental than non-Christians.
Christians are stingier than non-Christians.
Christians are more intolerant of other people than non-Christians.
Christians are more short-sighted than non-Christians.
Christians don't know how to have fun.
Christians despise intellectuals more than non-Christians do.
Christians prefer kitsch over important art.
Christian subculture mimics the world rather than creating anything lasting.
Companies run by Christians are as unethical as secular companies, and perhaps more so.
Christianity causes more problems in the world than any other religion.
Today, we'll look at myths #7 & #8:
7. Christians prefer kitsch over important art
As the Church of Jesus Christ grew and expanded, it touched nearly every art form. The Gospel's revelation of the divinity of Christ and His human nature resulted in a synthesis that ultimately broke the back of gnostic religions. This, in turn, created an environment in which art flourished, as God's coming to Earth as Man hallowed imagery.
But while the important artists that forged the backbone of Western art identified as Christians, the 19th century saw an increasing backlash against the realism that undergirded Christian art up until that time. With the coming of German higher criticism in the late 19th century, questions about the veracity of Scripture led to questions about absolute truth. The resulting cultural decline reflected in art that deconstructed itself.
Christian artists, unable to fend off the trend, either stayed true to their art and faded into profitless obscurity, or they pandered to low culture in an attempt keep bread on the table. When modern marketing techniques raised advertising to the level of popular art, the culture rewarded ad icons. Those icons, when mass marketed, led to an even lower form of art now known as kitsch.
I suspect that the rise of fundamentalism on one side and higher criticism on the other, dealt a death blow to Christian art during the Great Depression. Fundamentalists, in an entrenchment move, lumped all contemporary art into the category of "potentially evil," and this spilled over into the Evangelical consciousness. As a reaction against the supposed judgment that fell upon this country for the Roaring Twenties, Fundamentalists pushed hard against all forms of profligacy, and art, as a whole, suffered in that wake. Art, in general, lay damned.
But God built a creative spirit into man, so that desire to create needed a channel. What it got was a version of art that combined advertising imagery with a new sanitized Christian "ideal." And popular art, especially by Christians, has not recovered.
In her seminal book, A Profound Weakness: Christians & Kitsch, Betty Spackman argues from two sides of this issue, at once decrying kitsch as poor art, while acknowledging that it can still carry meaning for Christians. More to the point, she makes a bulletproof case that much of what passes for Christian art today is more kitsch than art, and that recovering a true appreciation by Christians for more masterful art may be difficult given the current state of Christian subculture around the world.
When all of Evangelicalism in the West is considered, it's hard to escape the truth that kitsch dominates our expression. From our "His Pain, Your Gain" t-Shirts to "WWJD" jewelry to modern megachurches, Christian culture perpetuates kitsch over substantive works, the typical Christian bookstore replacing the secular museum. Worse yet, the average Christian today can rack his brain and not come up with the name of a contemporary Christian artist—with the possible exception of Thomas Kinkade.
The problem of Christians and kitsch extends to all parts of the creative life within the Church. As kitsch itself is a derivative form, so too many creative endeavors within the Christian community lack a true defining Christianity, instead adding a Christianized coating to secular forms. What a true Christian expression of the arts might look like in the 21st century is yet to be seen, but we all should hope to live long enough to witness its full blossoming.
Assessment: Confirmed
***
8. Christian subculture mimics the world rather than creating anything lasting
Our affinity for kitsch means Christian expression cannot avoid including it at the core of our subculture. As mentioned above, the derivative nature of kitsch means the art itself has come from some other source, itself often derivative. Christians attempting to create out of that limited pool come off as pseudo-sanctified mynah birds, rather than images of the Spirit as dove.
For this reason, contemporary Christian culture in the West lives more off a perverted form of its past than a vital present. When the Reformation is reduced to a derivative t-shirt, it's hard to argue that modern Christians care one iota about leading culture, preferring instead to be culture's dog on a leash.
Appealing to cultural relevance only worsens the problem, pulling the Church down into the world's cultural cesspool. Though not all of modern culture should be viewed at arm's length, sadly, the aspects deemed most usable by the Western Church are the ones most needful of discarding. Sure, it may be possible to erect something intriguing out of rusty tin cans, but is that redeeming the time we've been given by the Lord?
Until the Church in the West abandons its love affair with redeeming the sleaziest parts of our culture, most of what we redeem from it will be garbage. And derivative garbage, at that. Encouraging folks guided by the Lord to create new directions in culture—leading, not following—and backing their gifts wholeheartedly is our only hope.
Assessment: Confirmed
***
Stay tuned, the final two myth assessments still to come…
Entries in this series:
{Image: Odysseus blinding the Cyclops Polyphemus}