For this very reason, make every effort to supplement your faith with virtue, and virtue with knowledge, and knowledge with self-control, and self-control with steadfastness, and steadfastness with godliness, and godliness with brotherly affection, and brotherly affection with love.
—2 Peter 1:5-7 ESV
Whenever I hear some smug sourpuss exclaim, "The word love isn't mentioned anywhere in the Book of Acts," I want to scream.
Why? Because the entire book is love! And not just Acts. Same goes for the other sixty-five books.
Sadly, the sourpuss understanding predominates in some of our churches. Too many Christians live as if love were the most foreign word in their vocabularies, and they'll use any excuse not to say it, much less practice it.
This last year, if a lesson wrought in my life by the Holy Spirit has stuck more than any other, it's this: Lead with love. Always.
And I'm not talking about tough love, because so-called tough love is the excuse of too many Christians to be tactless and self-righteous. I'm talking about this kind of love:
Greater love has no one than this, that someone lays down his life for his friends.
—John 15:13 ESV
Look who laid His life down for us, the ones He calls friends. Look who wept bitterly at the tomb of His dear friend, Lazarus. Look who purchased for Himself a Bride, a perfect, perpetual lover, one He bought with His own blood!
We sell Jesus short (and ourselves along with Him) when we give such short shrift to love.
God so loved us that He sent Jesus, whom He loved in divine fellowship with the Holy Spirit, to show us how to love perfectly. By love, Jesus served us, and died on a cross, choosing to prove His love for us and for the Father and the Spirit, by offering up His life. And from that spilled blood rose His Bride, the Church, whose entire language and practice is steeped in love.
No one had seen anything like that Bride. Jerusalem was shaken by this band of people whose first act after receiving the loving gift of the Holy Spirit was to ensure by love that none among them lacked for any good thing. That the orphan and widow, the two lowest forms of life in that society, be loved and served because God loved them beyond what any human could understand. The orphan became the child of God and the widow a bride! Because of love!
That group of believers loved so intensely they thought nothing of their own lives save that they through faith love their Lord unto death, facing a cross of their own for reaching out to anyone who did not already know their Lover. And when they flagged, their leaders roused them with these truths of love:
But God, being rich in mercy, because of the great love with which he loved us, even when we were dead in our trespasses, made us alive together with Christ—by grace you have been saved—and raised us up with him and seated us with him in the heavenly places in Christ Jesus, so that in the coming ages he might show the immeasurable riches of his grace in kindness toward us in Christ Jesus.
—Ephesians 2:4-7 ESV
See what kind of love the Father has given to us, that we should be called children of God; and so we are.
—1 John 3:1a ESV
Therefore, my brothers, whom I love and long for, my joy and crown, stand firm thus in the Lord, my beloved.
—Philippians 4:1 ESV
Put on then, as God's chosen ones, holy and beloved, compassion, kindness, humility, meekness, and patience, bearing with one another and, if one has a complaint against another, forgiving each other; as the Lord has forgiven you, so you also must forgive. And above all these put on love, which binds everything together in perfect harmony.
—Colossians 3:12-14 ESV
And it is my prayer that your love may abound more and more, with knowledge and all discernment, so that you may approve what is excellent, and so be pure and blameless for the day of Christ,
—Philippians 1:9-10 ESV
You see, when Jesus Christ came, He brought a love revolution. The Jews were scandalized by this rabbi who loved tax collectors, whores, beggars, and even Roman scum who oppressed their nation. He loved the unlovable, and by that love forgave the unforgivable.
His birth was a sacrificial act of His own love.
His first battle with evil proved His unwavering love for the Father and for us, His mission.
His first miracle was an act of love for a couple in love.
His first public reading of the loving words of the Father attested to His love for those society deemed unlovable.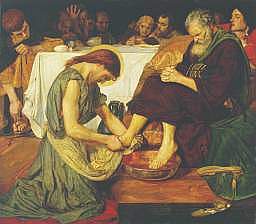 He delayed His love for a friend to show an even greater love that proved His love not only for His friend, but to His Father.
By His perfect love, His service to us was our model of love.
He only spoke the truth, and that because of His love.
Love empowered both His death and resurrection.
And when He spoke of the people He would love forever, He spoke of them as a Bride, the very image of love.
That Bride not only shocked the callous hearts of the Jews, people who had once understood the love of God (but who could not see when Love walked among them), she destroyed all pretense behind the false love shown by the pagans. For if the pagans thought they knew love through their religious sexual carnality and temple prostitution, the unblemished love Christ showed through His Bride shook their worlds. This was not a perverted love that loved only the young, strong, and beautiful, but also the old, weak, and ugly. The Church spread like wildfire through the Roman Empire, historians wrote, because the Christians loved people everyone else left to die. And an entire empire stood up and took notice.
Holiness didn't make the rest of the world stare in amazement. No one was holier than the Pharisees. Doctrine didn't make people wonder what this new sect was. No one knew their doctrine better than the Pharisees. When the last of the Pharisees exhaled for the final time, all their supposed holiness and doctrine amounted to not one whit of salvation wrought for the Kingdom of God.
Because they had no love.
Anyone who does not love does not know God, because God is love.
—1 John 4:8 ESV
In closing, the Bible says this:
Rather, speaking the truth in love, we are to grow up in every way into him who is the head, into Christ, from whom the whole body, joined and held together by every joint with which it is equipped, when each part is working properly, makes the body grow so that it builds itself up in love.
—Ephesians 4:15-16 ESV
He is the image of the invisible God, the firstborn of all creation. For by him all things were created, in heaven and on earth, visible and invisible, whether thrones or dominions or rulers or authorities–all things were created through him and for him. And he is before all things, and in him all things hold together. And he is the head of the body, the church. He is the beginning, the firstborn from the dead, that in everything he might be preeminent. For in him all the fullness of God was pleased to dwell….
—Colossians 1:15-19 ESV
If we are to grow up in every way into Christ, then because He is Love, our entire reason for being is to love. For if the universe is held together in Christ, He holds it together in love, because that is what He is, and that is what we are to be as well.
The Peter passage that opens this post says it all. Everything we are about as Christians culminates in love. Love is the fulfillment of what it means to follow Christ. As the Lord of Love replied when asked which command is greatest:
"The most important is, 'Hear, O Israel: The Lord our God, the Lord is one. And you shall love the Lord your God with all your heart and with all your soul and with all your mind and with all your strength.' The second is this: 'You shall love your neighbor as yourself.' There is no other commandment greater than these."
–Mark 12:29-31 ESV
In everything, lead with love.
Always.