I talk a lot about intrachurch community here at Cerulean Sanctum, but not as much about the kind of community that spans denominations. Today's post rectifies that lack.
Leonard Ravenhill, the great British revivalist (and one of the patron saints of this blog) was fond of wordplay. One of his favorite tricks follows:
"…that's not the kind of message you'll hear today in our religious abominations…er, denominations."
As much as I love Ravenhill for his wit and spiritual depth, I'm not to the point of calling our denominations abominations. Fact is, I've learned a considerable amount from the denominations I've interacted with since coming to Christ.
From the Lutherans, I learned about Jesus (for the first time), grace, and the priesthood of all believers.
From the Assemblies of God, I learned about the power of the Holy Spirit for service.
From the Presbyterians, I learned about the authority of the Scriptures.
From the Disciples of Christ, I learned about holiness.
From the Methodists, I learned about fellowship.
From the Evangelical Free Church, I learned about the necessity of a Christian worldview.
From the Vineyard, I learned about evangelism through service and how to listen to the Holy Spirit.
From the Pentecostals, I am learning the depth and breadth of what Christ did for me through the cross and what that means for how I view myself and others.
If this makes me a "mongrel in the Faith," then I'm a mongrel. In defense of mongrels, I'll say this much: we aren't prone to genetic diseases that afflict the purebreds, and we're certainly not inbred to the point of weakness.
I learned all those different aspects of the faith from those different denominations largely because each denomination has found a handful of specific truths in the Scriptures that they latched onto and defended with tooth and nail.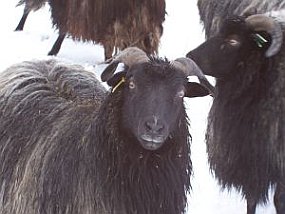 Such is the specialist aspect of Christianity today, but still. Someone defended truth and held it up as an example, even if it was just a small piece of a larger whole.
In truth, how can we not fall into these little groups? I'm not sure that such a division was inevitable when the Christian Church sprang to life, but I suppose the über-sovereigntist would argue that God planned it that way all along. We wouldn't agree. I can see Ravenhill's point. A fractured Body is a fractured Body.
Still, considering the tribal nature of human beings, I'm not surprised that we continue to fall into tribes of people who believe, look, and act like each other. That this also marks our churches should come as no surprise. We feel most comfortable in a community that looks like us. As for me, I'm thankful that I've been a part of enough Christian groups that don't look exactly like me that I'm comfortable with a wide-variety of Christian experience. Even then, I'll say that not every one is my exact cup of tea.
We need the proper perspective: heaven isn't going to be tribal. I highly suspect that it won't reflect our own idiosyncratic groups, but reflect the entirety of every tongue and every nation. The divisions won't mean anything anymore.
All this brings me back to the great philosopher Rodney King who once said:
"People, I just want to say, you know, can we all get along?"
Well, can we?
As someone coming from a charismatic perspective, it always hurts to see fellow believers absolutely foam at the mouth and lash out with every verbal weapon they possess when it comes to the whole issue of the charismata working today. The worst part of that is the anger and accusations get leveled at people as opposed to ideas.
In any theological battle royale, people lurk behind every idea. So even if an idea is wrong, there's still a person who holds it. For us Christians, that should matter more than it seems to.
When I discuss things with people who have ideas different than mine, I do keep up a mental fence to screen out ideas that violate Scripture. The difference is I still try to listen. Too many Christians out there stick their fingers in their ears and start screaming, "Nah, nah, nah, I'm not listening." And that's a darned shame.
So the Nazarene guy and I are not going to agree on the charismata. It doesn't mean I treat him like crap. It also means he may have insights into a portion of theology and the practice of the Faith that I lack. But if we start gouging out each other's eyes because our theology doesn't align perfectly in every minute detail, then we've lost the real battle and let Satan win. And Satan gets too many wins nowadays.
I can't imagine what my faith would be like today if I never experienced those other denominations. I wish true Christianity wasn't as fractured as we've made it, but what it is, it is this side of heaven. I don't see a reversal of that trend until the Lord returns.
This isn't a call to ecumenism. I don't support the current incarnation of the ecumenical movement because it gives away the farm in order to get the cow. That's not wisdom and right fellowship. Some things about our Faith are givens (like the divinity of Christ and His salvific uniqueness), but I'm willing to listen on some of the smaller points.
Most of all, I'm willing to love my neighbor. Love overcomes a great deal, even mistaken ideals.
The "other guys" in that Christian church across the street have something to teach us. Are we listening?