At Caesarea there was a man named Cornelius, a centurion of what was known as the Italian Cohort, a devout man who feared God with all his household, gave alms generously to the people, and prayed continually to God. About the ninth hour of the day he saw clearly in a vision an angel of God come in and say to him, "Cornelius." And he stared at him in terror and said, "What is it, Lord?" And he said to him, "Your prayers and your alms have ascended as a memorial before God. And now send men to Joppa and bring one Simon who is called Peter. He is lodging with one Simon, a tanner, whose house is by the sea." When the angel who spoke to him had departed, he called two of his servants and a devout soldier from among those who attended him, and having related everything to them, he sent them to Joppa.
—Acts 10:1-8
I don't normally reiterate here at Cerulean Sanctum what I hear in the previous Sunday's sermon at my church, but my pastor mentioned a passing point that struck me, so I'd like to expound on it.
In the Acts 10 passage above, the Roman centurion Cornelius receives mention.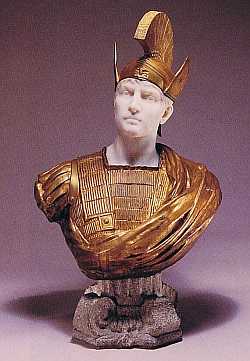 The Scriptures describe three distinctives of this soldier:
He feared God (as did the rest of his household).
He gave generously to the needy.
He prayed continually.
Luke goes on to write that an angel appeared to Cornelius and prepared a way for his family to go down in history as the first Gentile believers. As a result, his name is forever enshrined in the Scriptures.
Let's concentrate on those three distinctives of Cornelius. Because he proved faithful, God looked upon him and decided to use him in a special way to forever change the course of human history. This man's dedication and humility marked him as the perfect choice for receiving the Holy Spirit apart from any Jewish lineage. It's not hard to align the manner in which Cornelius conducted his life with this well-known verse:
He has told you, O man, what is good; and what does the LORD require of you but to do justice, and to love kindness, and to walk humbly with your God?
—Micah 6:8
Sounds like Cornelius, doesn't it?
Note what caught the Lord's eye about this man:
Your prayers and your alms have ascended as a memorial before God.
Prayers and giving to the needy.
I think we miss how easy it is to live out a life faithful to the Lord. We add rules and subtract others. We get sidelined in the kind of affairs that would never distract a true soldier of Christ. We can't spend one hour in prayer. We can't do without our wants so that others can receive their needs. We fear not keeping up with the Joneses, we fear what the neighbors might think, and we fear the wrong party will see their candidate become the next president, but we don't truly fear God.
So we don't receive visions. Angels don't deliver messages to us. And perhaps God chooses to use a more faithful believer on the other side of the world to alter the course of history.
In the end, we say that visions are passe. Angels don't come around anymore. The tongues that Cornelius and his family spoke were for another time, but not ours.
And our faith grows smaller for our dismissals.
Is it really that hard to fear God in America 2007? Or to pray continually? Or to put down the mail-order catalog long enough to meet the needs of someone dashed on the rocks by the vicissitudes of life?
Is it?

Lord, I pray that you would mold each and every person reading this into the kind of believer Cornelius was. Bless us as you did Cornelius, and use us to change the world.