What can be said in the aftermath of the Virgina Tech slaughter? Better commenters than yours truly have offered insights I could never hope to provide. In lieu of this, I considered not saying anything at all.
But a quote from one of the survivors of the attack reminded me that some aspects of this horror have kept to the shadows. Garrett Evans, who received a gunshot wound, said of his attacker:
An evil spirit was going through that boy, I could feel it.
I don't know anything about Evans' religious beliefs, but I do know this: too many people in America don't want to hear talk of evil spirits.
I don't think a culture exists on this planet that conjures up more imagery based in the supernatural than ours. We drop spiritual allusions into almost every conversation,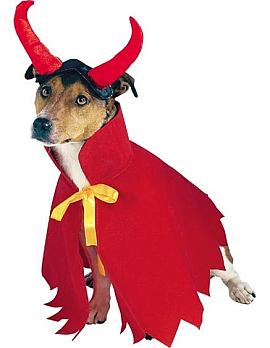 codify curses around Biblical terminology, and talk about God, angels, demons, and what else as if God, angels, demons, and what else moved in next door.
But our context for that talk rarely strays from a Halloween-like understanding of spiritual forces of good and evil. Our post-Enlightenment rationalism outstrips any idea that realms exist outside of the one that serves up a mocha latté to die for. About as close as any American desires to get to the demonic is requesting The Exorcist from Netflix.
So we laugh and make jokes about something that's not even remotely funny. And when the object of our derisions lashes out, we wander around asking, "How could this possibly happen?"
In truth, how could it not?
I've written before on the demonic ("The Chthonic Unmentionable" and "Battling Beelzebul"), so I don't feel I need to retread that ground. Yet I wonder how many of us take the Enemy of our souls seriously. Given that so many Christians appear to live in a perpetual shadow, continually caught up in destructive behaviors or thoughts, it makes me wonder if we believe this truth from Jesus:
The thief comes only to steal and kill and destroy.
—John 10:10a
The thief took 33 lives at VT, didn't he? He killed and he destroyed. So I find it fascinating that almost no one has taken Garrett Evans's comment and run with it.
How do we on a daily basis confront this thief who comes to steal, kill, and destroy? How much has been stolen, killed, or destroyed in your life and mine because we attributed to "coincidence" or the "fickleness of life" what should have been linked to the chthonic operating in the shadows?
Brothers and sisters, let's not be blind to this. We have an Enemy. He may be mortally wounded, but a weekend filmfest alone should convince you that the bad guy we thought was shot dead still may stir enough to pump a few rounds of hot lead into some poor unfortunates before he expires. So it is with our ultimate Enemy.
If we want a personal revival in our own lives, we need to wake up to the fact that we weren't taken off Satan's hitlist the second we fled to Christ. Nor did evil up and die when Jesus said, "It is finished." Evil's vanquishing still awaits the final trumpet. Until that time, we can't act as if the devil's not there.
Because, if you listen in your spirit, you can hear him roaring.