Yesterday, my pastor preached on believing God for the impossible.
For most of my life, I've been the kind of person who has believed God for the impossible. I believe that God can do anything. I put no limits on His ability to do anything.
Where I stumble is when I find that fellow Christians around me don't believe as I do. Then I question whether I'm the nut and they're the ones making sense.
And I look at the waves.
And in the fourth watch of the night he came to them, walking on the sea. But when the disciples saw him walking on the sea, they were terrified, and said, "It is a ghost!" and they cried out in fear. But immediately Jesus spoke to them, saying, "Take heart; it is I. Do not be afraid." And Peter answered him, "Lord, if it is you, command me to come to you on the water." He said, "Come." So Peter got out of the boat and walked on the water and came to Jesus. But when he saw the wind, he was afraid, and beginning to sink he cried out, "Lord, save me." Jesus immediately reached out his hand and took hold of him, saying to him, "O you of little faith, why did you doubt?"
—Matthew 14:25-31
In Hebrews it says that bad company ruins good morals. But what about faithless company ruining good faith?
We're in a tough situation right now that calls for the impossible. As much as many Christians around me will nod their heads and say that God can do the impossible, the second I start laying out our situation here, out come the naysayers.
What happened to God doing the impossible?
I'm not sure I understand that phenomenon. Evangelicalism seems rife with supposedly faithful people who backpedal the second they hear of a really tough case.
Most times, the advice starts flying. Forget faith, here's what's got to be done to address the situation. You better roll up the sleeve on that arm of flesh, son! It's as if God got the boot because you and I are better equipped to deal with the intractable.
That makes no sense to me, but it's hard to shake the feeling that I'm wrong on my position of believing for the impossible when everyone starts giving me advice—and none of it is "Believe God for the impossible. And we'll join with you in believing for it!"
That betrays something about us: We really don't believe God.
It goes back to last week's post about prosperity. We don't want to believe that God can prosper someone materially because then we have to face the truth of those folks who don't prosper materially. What then? So we spiritualize the promises of God. Better that we put those promises outside our physical plane of existence where no one can spot the results.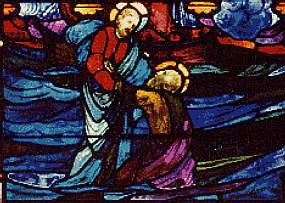 That way if there are no immediate results, we can make excuses about them being "invisible."
Isn't that the fallback position in most of the American Church?
Is that faith?
Our super-rationalism has gotten the better of us, hasn't it? As bad as it was for fisherman Peter when he tried to walk on those waves, it's a million times worse for us post-Enlightenment Americans. We run screaming into the arms of whatever earthly answer comes our way, but the last thing we'll do is stand on God's promise to do the impossible.
Several years ago, I was walking through a mall when a shoe salesman corralled me. I knew right away where his insistence would take us: nowhere.
I wear a ridiculously hard-to-find shoe size. Over in Europe, I can find my size easily, but here in the States, fat-footed people reign and I'm lucky to find anything, especially non-dress shoes.
Politely, I said, "You won't have anything in my size."
He grinned, stared at my feet, and said, "We've got every size they make. Come inside and I'll set you up."
Waving him off, I countered, "No, you don't have my size."
"Try me." He folded his arms and leaned back, pummeling the ether with waves of confidence.
"Okay," I said, ready to deliver the blow, "how about 13AA?"
"Sheesh," the guy said, laughing and turning aside to arrange a pile of shoes on a table, "we don't have that!"
We reek of the same sort of confidence as the cocky salesman. We tend to place our faith in what we have in stock, and that stock, in America at least, isn't quite as deep as we think it is. We encounter someone with a real problem and we end up sheepishly arranging shoes.
But that "far-off country" has a solution. And the fact that few of us get there means we never discover what it has in stock. We'll exhaust our local reserves, but we won't go to that far country to get what we need.
Even in the Church, we put too much faith in man-made answers. We'll push those answers without a thought because we've been indoctrinated to believe they can solve problems. But they don't. In fact, they fail more often than not. That's when we start getting serious about prayer, isn't it? As the last resort. Even then, we're afflicted by the nagging doubt that our man-made answers didn't work, so how can God's?
Is God a fairy tale? Then why do we treat Him like one? Knowing adults wink at each other when surrounded by children who believe in Santa Claus, and sadly, it seems we do the same to people who believe that God is the resolver of the impossible. We've made the Lord of All into just another figment of the imagination.
Is it pride? It seems like it to me. We don't want to have to explain why our involving God in a situation didn't work for some untold reason. It might make us look stupid. And we all know the worst thing that can befall a self-respecting American, Christian or not, is to look stupid.
Me? I'd rather look stupid than be faithless. Still, even that's tough to do when everyone else is looking at the waves.
But Jesus looked at them and said, "With man this is impossible, but with God all things are possible."
—Matthew 19:26